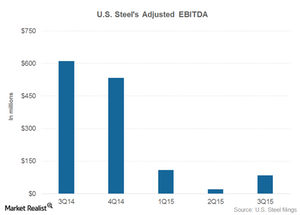 U.S. Steel's Carnegie Way versus the Commodity Carnage
By Mohit Oberoi, CFA

Nov. 23 2015, Updated 4:04 p.m. ET
Carnegie Way
U.S. Steel (X) is running a transformation strategy called "Carnegie Way." The Carnegie Way program accounted for a substantial portion of management's commentary during the firm's 3Q15 earnings conference call. U.S. Steel expects to realize $715 million worth of savings in 2015 thanks to the program. That's quite a large sum of money for a company that has generated a negative adjusted net income in the last three quarters.
Currently, U.S. Steel forms 0.1% of the SPDR S&P MidCap 400 ETF (MDY).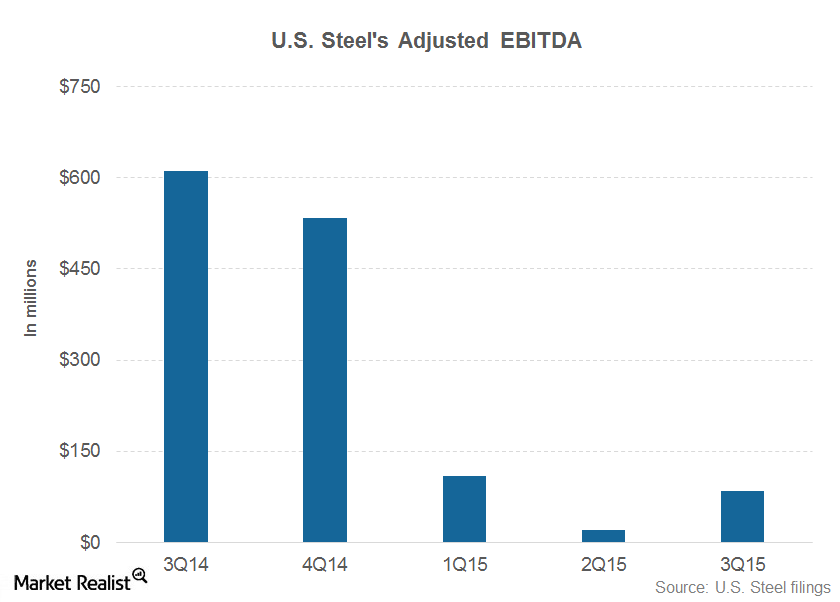 Article continues below advertisement
Has Carnegie Way really helped?
U.S. Steel's adjusted EBITDA (earnings before interest, tax, depreciation, and amortization) rose by $65 million in 3Q15—compared to 2Q15. You can see this in the above graph. This is despite the fact that the company's revenue fell by $70 million over this period. U.S. Steel attributes it to "cost reduction efforts and increasing Carnegie Way benefits."
During the earnings conference call for 3Q15, U.S. Steel compared the current market situation to 2009. Dan Lesnak, the General Manager of Investor Relations, said during the 3Q15 earnings call that "Using our North American Flat-Rolled segment as an example, excluding a favorable change in raw materials costs and decreasing pension costs, the improvement in our costs in the third quarter of 2015 as compared to the third quarter of 2009 is over $100 million or almost $40 per ton."
He also said that "Our actions to reduce operating costs combined with increasing Carnegie Way benefits enabled us to offset the effect of lower average realized prices."
Is it enough?
When the steel prices fall, there isn't much that companies including Commercial Metals Company (CMC), AK Steel (AKS), and Gerdau (GGB) can do. Cost-cutting measures like U.S. Steel's Carnegie Way help to offset the negative impact to some extent, but any sustainable recovery in earnings would depend on how steel prices play out in the coming quarters.
Meanwhile, U.S. Steel cut its EBITDA guidance for 2015. We'll discuss this more in the next part.