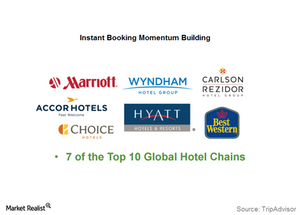 TripAdvisor and the Future of Instant Booking
By Ally Schmidt

Updated
Latest move
From hotel reviews to pop-up advertising, metasearch, restaurant reservations, and now direct hotel bookings, TripAdvisor has pretty much laid its hands on everything that will help it grow. In June last year, the company launched its Book on TripAdvisor feature for directly making hotel reservations on its website. It's another step closer to making the website a one-stop shop for all travel needs and services.
Article continues below advertisement
How does it work?
TripAdvisor's Instant Booking allows users to book directly through TripAdvisor without leaving the site. The company continues to work as a metasearch company following a cost-per-click model. But its Instant Booking platform would follow a bid-based cost-per-action model. Under the new platform, if the property participates in Instant Booking, the company would now be paid only after a booking is made. The hotel would get a choice to pay a commission percentage of 15% or 12% in order to claim either 50% or 25% of reservations made through this platform, respectively.
Slow to pick up
The new platform took time to take off. Hotels and other OTAs were initially very reluctant to join the TripAdvisor Instant Booking platform. But slowly and surely, TripAdvisor now has seven of the world's ten largest hotel chains—like Wyndham (WYN) and Marriott (MAR)—sign on. Many smaller hotels are also working directly with the new platform. The greatest push came in last month, when Priceline decided to feature listings from Booking.com on TripAdvisor's Instant Booking platform. We'll discuss this unusual deal in the next articles of this series.
Outlook
Mobile use has negatively affected the CPC model over the past few years because of poor monetization. As users get more and more mobile, Instant Bookings should add more value to TripAdvisor compared to the traditional metasearch-based CPC model. This is because Instant Booking makes transactions a lot easier by avoiding all the hassle of going to another site, which is what most mobile users prefer. However, this outlook would largely depend on the adoption of the platform by hotels around the globe.
TRIP makes up 1.8% of the NASDAQ-100 Ex-Technology Sector Index (QQXT) and industry leader Priceline (PCLN) forms ~1.7% of the fund's holdings.