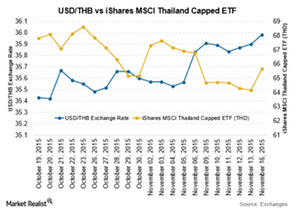 Thai Baht Rose Due to Strong Economic Growth
By David Meyer

Nov. 20 2020, Updated 5:17 p.m. ET
Strong economic growth
The Thai baht appreciated against the US dollar on November 16, 2015. Economic growth showed signs of a turnaround. The GDP (gross domestic product) rose at the fastest quarterly pace this year. The baht depreciated over the weekend due to volatility from geopolitical events. The terror attack in Paris downplayed tourism prospects in France. The Thai baht rose earlier this month after the Bank of Thailand kept interest rates constant at 1.5%. To learn more, read Thai Baht Gains Slightly as Bank of Thailand Holds Rates Steady.
Article continues below advertisement
Thai GDP rose by 2.9% in the third quarter
The Thai GDP rose in 3Q15 by 2.9% on an annual basis. It exceeded the market expectations of 2.6% and the previous quarter's growth of 2.8%. On a quarterly basis, the GDP rose by 1.0% against the previous quarterly growth of 0.3% and expectations of 0.65% growth. A gradual recovery in the global economic conditions and the low value of the baht helped manufacturers and revived the export sector.
Impact on the market
The iShares MSCI Thailand Capped ETF (THD) ended the day higher by 2.3% on November 16, 2015. Strength built up in the baht. The iShares MSCI Emerging Markets Asia ETF (EEMA) ended on a positive note at 1.1%.
Looking at ADRs (American depositary receipts), travel and leisure company China Eastern Airlines (CEA) was trading negatively at 2%. On the other hand, Guangshen Railway (GSH) rose 1.1%. Qunar (QUNR) rose by 3.20% at the end of the day.