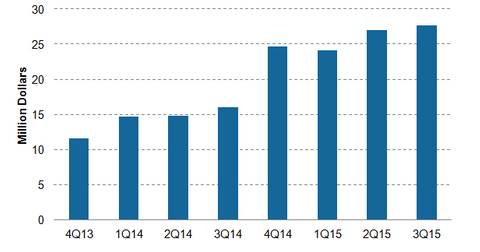 How the TexNew Mex Pipeline Will Benefit WNRL's Cash Flows
By Vineet Kulkarni

Updated
Organic growth
Western Refining Logistics (WNRL) is expecting an addition of $18.5 million to $19 million in EBITDA (earnings before interest, taxes, depreciation, and amortization) from TexNew Mex Pipeline and Star Lake crude oil storage tank in 2016. This deal will significantly increase WNRL's earnings compared to the $27.7 million in EBITDA in 3Q15.
With the recent acquisition of TexNew Mex, Western Refining Logistics aims to spur its organic growth for future success. WNRL is aggressively investing in the Permian/Delaware Basin, which is experiencing continuing crude oil production growth.
Article continues below advertisement
Cost advantage for Western Refining
Western Refining (WNR) has agreed to provide a minimum volume commitment of 13,000 barrels per day on the TexNew Mex Pipeline. However, WNR will retain 80% of anything above 13,000 barrels per day of crude oil throughput from this pipeline. WNRL will be entitled to the remaining 20% of anything above the minimum volume commitment. Western Refining expects these volumes to be ~20,000 barrels per day in 2016. The crude oil (USO) from the Four Corners that is flowing from TexNew Mex to Western's refineries is providing a cost advantage of $3-$4 per barrel net of transportation cost relative to that of the Midland Basin.
Western Refining also recently completed Phase 1 of the Bobcat Pipeline, which has a capacity of 125,000 bpd and provides transportation of crude oil (UCO) out of the Delaware Basin. Considering the Bobcat and TexNew Mex pipelines, Western has a structure that offers crude oil from the Four Corners and Delaware Basin to the Midland and the Gulf Coast. This creates a win-win situation for Western, as these assets source crude oil to third parties as well as fulfill the needs of its own refineries.
Phillips 66 (PSX) is planning to invest $8 billion to $9 billion in midstream projects in the coming three to four years. By 2016, it plans to drop down half of these projects to Phillips 66 Partners (PSXP).
Strategic advantages of the TexNew Mex Pipeline
The TexNew Mex Pipeline will be a key driver in the growth of WNRL's pipeline volumes and will be an essential component to transport most of the weak crude oil to WNR's El Paso refinery through the Four Corners and the Permian Basin. This pipeline is capable of transporting 75,000 barrels per day, and the company is expecting it to ramp up the current flowing volumes to 18,000-20,000 barrels per day. Western Refining completed the construction of this 375-mile segment and started transportation in April 2015. Western Refining (WNR) believes that TexNew Mex will be able to ramp up shipments more than its current capacity from the Four Corners once the Bobcat Pipeline becomes fully operational and de-bottlenecks the TexNew Mex line.