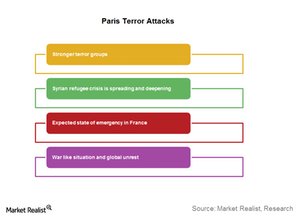 Why Is the Terror Attack in Paris Different?
By Ally Schmidt

Nov. 23 2015, Updated 12:05 a.m. ET
Why is Paris different?
As we discussed in the last part, there have been four major terrorist attacks around the globe. Although the stock markets saw an immediate sharp selloff, they recovered to pre-event levels within two weeks. This signals the "carry on as usual" attitude that the market started to maintain. However, the terror attack in Paris could have deeper impacts.
Article continues below advertisement
Stronger terror groups
Terror groups have grown in strength and number. The have also changed the way that they attack nations. Terror groups are openly challenging countries across the globe. Their reach is also spreading. Instead of targeting major financial or political institutions, terror groups are disrupting softer and easier targets like beach resorts, airlines, subways, museums, hotels, and other public places. Attacking these targets gets stronger reactions.
Even in Paris, the bombings were carried out in restaurants, a music concert, and other public places. This led to a maximum loss of life. This could have a negative impact on travel and related industries. It could impact the airline industry including Delta Air Lines (DAL) and United Continental (UAL). It could impact the hotel industry including Marriott (MAR) and Hilton (HLT). It could also impact the OTA (online travel agency) industry including stocks like Priceline (PCLN) and Expedia (EXPE).
Hotels, OTAs, and airlines form ~9% of the iShares U.S. Consumer Services ETF (IYC).
Article continues below advertisement
Crisis in Syria
Europe, the Middle East, and Africa have already seen higher terror attacks in the past few years. The Syrian refugee crisis added to the woes. The Syrian refugee crisis is spreading and deepening across all of the European nations. An expected three-month state of emergency in France could add to the woes.
Air strikes against ISIS
Since the terror attack in Paris on November 13, France, Russia, and other nations have conducted air strikes in Syria. The air strikes are targeting ISIS (Islamic State of Iraq and Syria) militants. This is creating a war-like situation in the area. It could lead to unrest in the global markets.
Next, we'll look at how the terror attack will likely impact France's economy. Specifically, we'll see how the terror attack could impact the global travel and tourism industry.