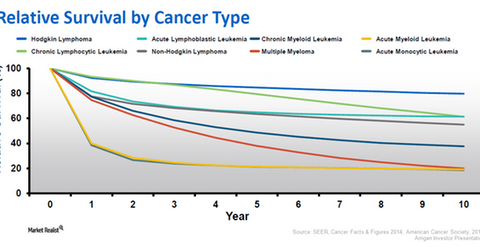 Takeda's Ninlaro and Its Approval for Multiple Myeloma Treatment
By Margaret Patrick

Updated
FDA approval
On November 20, 2015, the U.S. Food and Drug Administration (or FDA) approved Takeda Pharmaceutical Company's (TKPYY) Ninlaro (ixazomib) in combination with two therapies for multiple myeloma (or MM) patients who have been treated with at least one prior line of therapy.
Ninlaro is the third therapy to be approved for MM patients in 2015. It was preceded by Novartis's (NVS) Farydak on February 23, 2015, and Johnson & Johnson's (JNJ) Darzalex on November 16, 2015. To know more about Darzalex's FDA approval, please refer to Johnson & Johnson's Darzalex in the Wake of FDA Approval.
Article continues below advertisement
Multiple myeloma market opportunity
The above diagram shows that compared to other cancer types, MM and acute myeloid leukemia have shorter relative survival percentages as compared to other hematologic cancers. This indicates that there is significant unmet demand in the MM space.
According to the FDA, "Multiple myeloma is a form of blood cancer that occurs in infection-fighting plasma cells (a type of white blood cell) found in the bone marrow. These cancerous cells multiply, produce an abnormal protein and push out other healthy blood cells from the bone marrow. The disease may result in a weakened immune system and cause other bone or kidney problems."
According to the projections by the National Cancer Institute, in 2015, there will be 27,000 new MM cases and 11,000 deaths due to MM in the United States. These numbers highlight the market opportunity available for MM players such as Takeda Pharmaceutical, Johnson & Johnson, Celgene (CELG), Novartis, and Amgen (AMGN) in the United States.
With Ninlaro being an oral drug that reduces the progression of MM in afflicted patients, it is expected to acquire a significant share in the growing MM market.
Priority review status
The FDA granted priority review status to Ninlaro on September 9, 2015. According to the FDA, "Priority review status is granted to applications for drugs that, if approved, would be a significant improvement in safety or effectiveness in the treatment of a serious condition."
US investors can get exposure to multiple MM players without bearing excessive company-specific risks by investing in the Health Care Select Sector SPDR ETF (XLV). MM players such as Amgen, Johnson & Johnson, and Celgene account for about 4.5%, 10.5%, and 3.3% of XLV's total holdings, respectively.