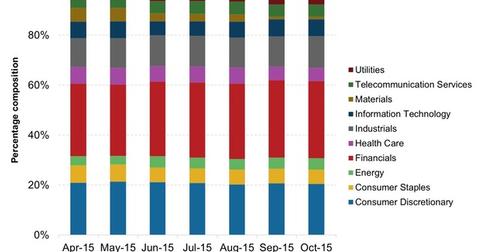 How the T. Rowe Price European Stock Fund's Portfolio Looked
By David Ashworth

Nov. 24 2015, Published 1:21 p.m. ET
T. Rowe Price European Stock Fund
The T. Rowe Price European Stock Fund (PRESX) seeks to grow capital "through investment primarily in common stocks of both large and small European companies. Current income is a secondary objective." The fund's literature states that its assets will be invested in at least five countries. The fund's management uses a bottom-up approach while constructing the portfolio. Industry sector and country outlooks don't matter as much as company fundamentals.
The fund's literature states, "Country allocation is driven largely by stock selection, though we may limit investments in markets or industries that appear to have poor overall prospects." It further states that it doesn't have a growth or value bias while picking stocks.
Article continues below advertisement
The fund's assets were spread across 68 holdings as of October 2015, and it was managing assets worth $1.8 billion. As of the September portfolio, its top ten equity holdings included Intesa Sanpaolo (IITSF), Nestlé (NSRGY), Novartis (NVS), and Vodafone Group (VOD). The top ten holdings of the fund made up 23.9% of the fund's assets.
Historical portfolios
Here, we'll consider the fund's holdings as of September 2015 as that's the latest available sectoral breakdown with us. The holdings after September reflect the valuation-driven changes to the portfolio, not actual holdings.
The fund is invested across all ten sectors. The financials and consumer discretionary sectors form the core of the fund's portfolio. Combined, they constitute about 50% of the fund's assets. Industrials is the only other sector whose constitution reads in double-digits.
The fund's management emphasizes stock selection over sector or country selection. A look at the graph above would surprise you with the near consistent sectoral composition, though. This is the case not only for the seven months shown above but from October 2014 as well.
There were two notable changes in the past 12 months. The weight of financial stocks in PRESX's portfolio has increased over the period. Also, utilities now have over twice the weight that they had a year ago. Though materials form a substantially smaller portion than they used to in April 2015, they're nearly at the same level that they were a year ago.
How has October 2015 been for the PRESX? Let's find out in our next article.