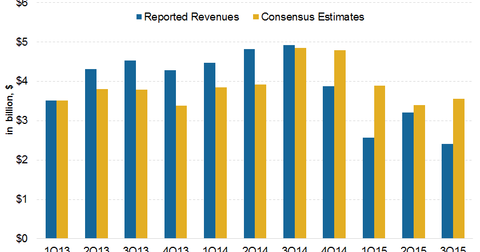 Sunoco Logistics Partners Missed 3Q15 Revenue, EBITDA Estimates
By Kurt Gallon

Updated
SXL's revenue versus consensus estimates
Sunoco Logistics Partners (SXL) missed its 3Q15 revenue estimate by a huge margin. Analysts' consensus revenue estimate for 3Q15 was ~$3.6 billion, while SXL's reported revenue was $2.4 billion, a miss of 32.4%.
SXL's huge revenue miss can be attributed a fall in its Crude Oil Acquisition and Marketing segment revenues. The gap between the consensus estimate and SXL's revenues widened most likely due to crude oil prices, which headed south in 3Q15 after a slight recovery in 2Q15.
The average crude oil price in the September quarter was ~$45.5 per barrel compared to ~$59.8 per barrel during the June quarter.
Article continues below advertisement
SXL's EBITDA versus consensus estimates
Sunoco Logistics Partners also missed its EBITDA (earnings before interest, tax, depreciation, and amortization) estimate for 3Q15. For 3Q15, analysts' consensus estimate was ~$283.4 million, while SXL's actual EBITDA stood at $196 million, a miss of 30.8%.
SXL's 3Q15 EBITDA miss can be attributed to weak operating performance from its Crude Acquisition and Marketing segment. We'll discuss more on this when we'll analyze SXL's segment-by-segment operating performance in a later article.
SXL's stock price reaction
SXL fell ~3.8% in the three trading sessions following its after-market 3Q15 earnings announcement on November 4, 2015. The Alerian MLP ETF (AMLP), which comprises 23 energy MLPs, fell ~3.7% during the same timeframe. So, SXL's fall was more or less in-line with general weakness in the midstream energy sector, notwithstanding its revenue and EBITDA misses.
SXL has returned -25.0% since the beginning of this year. SXL's peers Buckeye Partners (BPL), Shell Midstream Partners (SHLX), and NuStar Energy (NS) have returned -13.6%, -18.8%, and -25.4% YTD (year-to-date), respectively. Together, BPL, SHLX, SXL, and NS form 14.5% of the Alerian MLP ETF (AMLP).