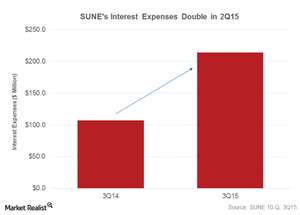 Why SunEdison's Leverage Keeps Growing—Even after GLBL IPO
Liquid resources see a jump
Liquidity: SunEdison (SUNE) had $2.4 billion (11.6% of its total assets) in cash and cash equivalents on its books as of September 30, 2015. SUNE, TerraForm Power (TERP), and Terraform Global (GLBL) had access to various credit facilities. Cash balances jumped during the quarter. The company held proceeds from the GLBL IPO and preferred equity issuance on its balance sheet to fund proposed $2.2 billion acquisition of Vivint Solar (VSLR), a residential solar (TAN) company.
Current assets available for sale came in at $800 million. These assets include international projects held on Silver Ridge Power's (or SRP) balance sheet. SRP is a joint venture between SUNE and AES Corp. (AES). SRP has decided to sell these projects.
Article continues below advertisement
Asset base continues to grow
During the quarter, SunEdison spent $756 million on capital expenditure and new project construction and another $175 million on acquisitions.
As a result, total property, plant, and equipment jumped to $11.4 billion as of September 30, 2015, compared to $10.5 billion as of June 30, 2015.
SunEdison's leverage
Total debt rose to $11.7 billion as of September 30, 2015, against $10.7 billion as of June 30, 2014, as the company continued to make organic and inorganic investments funded largely by debt. SunEdison's leverage is a major concern among investors and analysts.
Fresh debt, additional preferred equity issuance, and proceeds from the IPO of GLBL funded the capital expenditure, acquisitions, and increase in cash balances.