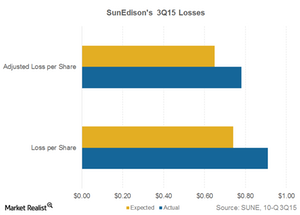 Why Has SunEdison Fallen since Its 3Q15 Earnings Announcement?
By Mike Sonnenberg

Nov. 25 2015, Updated 1:58 p.m. ET
SunEdison's 3Q15 earnings
SunEdison reported its 3Q15 earnings on November 9, 2015. The company reported a loss per share (or LPS) of $0.91 in 3Q15 against analysts' expectations for an LPS of $0.74. The adjusted LPS, which excludes non-recurring items, came in at $0.78 against the expectation of $0.65.
The stock has been on a downturn since July 2015 on concerns relating to the company's highly leveraged balance sheet. In 3Q15, SunEdison lost a whopping 76%. Since its 3Q15 earnings announcement, SUNE has lost 60%, as fund managers and investors have offloaded their holdings due to growing concerns about the company's financial health and operations.
Article continues below advertisement
SunEdison's 3Q15 revenues
SunEdison (SUNE) reported revenues of $476 million in 3Q15 compared to $469 million in 3Q14.
The Renewable Energy Development segment, through which SunEdison builds renewable power plants, reported a fall in revenues to $293 million in 3Q15 compared to $431 million in 3Q14. The company continued to retain projects on its balance sheet. During 3Q15, the company sold 41 megawatts (or MW) of renewable energy systems (TAN) compared to 95 MW in 3Q14.
On a positive note, systems sales to residential and commercial customers (part of the renewable energy development segment) saw an increase of $37 million in 3Q15 due to the acquisition of Energy Matters in 3Q14.
TerraForm Power (TERP), a SunEdison-sponsored yieldco, reported revenues of $163 million in 3Q15 compared to $53 million in 3Q14.The increase was mainly due to higher power sales on account of increased generation capacity.
TerraForm Global (GLBL), SunEdison's new yieldco focusing on international renewable energy projects, reported $29 million in revenues in 3Q15 compared to $7 million in 3Q14. FirstSolar (FSLR) and SunPower (SPWR) has sponsored a yieldco, 8point3 Energy (CAFD).