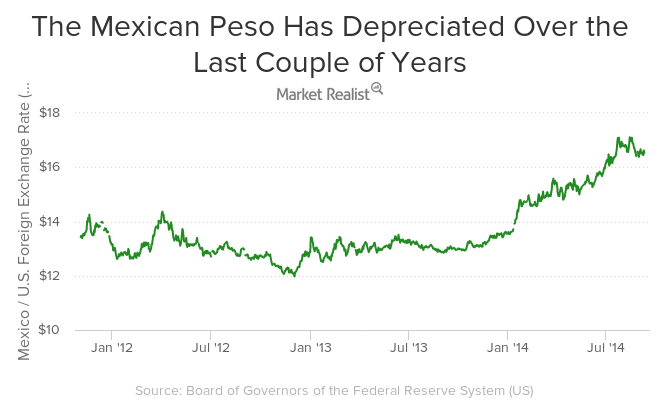 Successful Oil Auctions Have Boosted the Mexican Peso
By Andrew Stanners

Nov. 18 2015, Updated 3:33 p.m. ET
When Mexico's President Peña Nieto looks at his approval ratings, he might wonder whether next month's Día de Muertos (Day of the Dead) festival is prophetic. The peso has been whipsawed over the summer, a much-hyped auction of oil exploration licenses failed to live up to expectations and the central bank is sounding increasingly agitated in its communication. Add the president's own woes (approval ratings have dropped 20% since the start of his term in 2012), and things seem bleak for him and his country. But look a little deeper and it becomes clear that things in Mexico aren't half as bleak as they seem.
Article continues below advertisement
Reform was supposed to end years of underinvestment, mismanagement and inefficiency in the country's oil sector. But only two of the 14 fields up for grabs in the first round of auctions received successful bids. It was a disappointment, not least because the industry was already reeling from the collapse in oil prices. Yet we shouldn't read too much into this first auction. It was a triumph of transparency, which shouldn't be sniffed at in any emerging market. There are also good reasons why some fields didn't attract bids as well; for example, some were too small to be scalable. This was the first time Mexico has carried out a process like this, and there are clear signs that the authorities are learning their lessons for future rounds. Reform isn't easy and rarely bears fruit immediately. Mexico's oil sector is no different.
[marketrealist-chart id=782439]
Market Realist – Successful oil auctions have boosted the Mexican peso.
The Mexican (LAQ)(EWW) peso depreciated by 25.2% between May 2014 and August 2015. A good chunk of this depreciation came after July 2015, partly because the first auction disappointed the markets and partly because of global (FCO)(FAM) risk-off trades, which saw capital outflows from the risky emerging markets (ABE)(FEO).
However, the Mexican government awarded three out of the five areas of oil and gas reserves that were put up for bid in its second oil auction in late September. All of the winning bids were in excess of the minimum set by the government for its portion of operating profit.
Mexican authorities did a much better job in the second auction by easing some requirements and lowering the minimum bids to attract bidders. Since the second auction on September 30, the Mexican peso has appreciated by 2.9% against the US dollar (UUP) as of November 2. Investors are gaining confidence in the Mexican government, which has shown an eagerness for reforms as well as transparency.