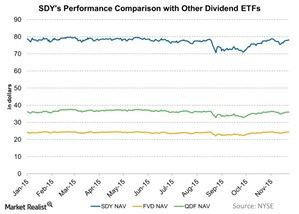 A Structural Overview of Smart Beta ETF SDY
By Ivan Kading

Updated
High dividend ETF
The SPDR S&P Dividend ETF (SDY) seeks to follow the investment results of the S&P High Yield Dividend Aristocrats Index. The index provider selects its stocks from the broader S&P 1500 Composite Index, which are relatively high-dividend–yielding stocks. Stocks should have both capital growth and dividend income characteristics as factors for inclusion in SDY's index portfolio.
The index's components are rebalanced annually in January for continued inclusion in the index and are re-weighted quarterly after the closing of the last business days of January, April, July, and October.
The above graph compares the market return of SDY with other high-dividend–yielding ETFs such as the First Trust Value Line Dividend ETF (FVD) and fixed income security funds such as the FlexShares Quality Dividend ETF (QDF).
Article continues below advertisement
Underperformer
It's apparent from the above graph that SDY has been more volatile compared to FVD and QDF. SDY's NAV (net asset value) movement has been more volatile in the market compared to other two dividend-yielding smart beta ETFs.
Similar to SDY, FVD is a high-dividend smart beta fund that selects its stocks according to their capability to generate dividends and their potential for capital appreciation.
QDF, on the other hand, selects average-dividend–yielding stocks with high quality scores. The quality score for each stock is identified using a multifactor model.
Most famous
The top holdings of SDY include AT&T (T), Realty Income (O), Caterpillar (CAT), Emerson Electric (EMR), and ExxonMobil (XOM). According to a survey done by Invesco, among the different types of smart beta funds, high-dividend funds are the most widely-used. High-dividend–yielding funds provide dual returns of regular income from dividends and gains from capital appreciation.
In the next part of the series, we'll study the moving average trend and analyst estimates of SDY.