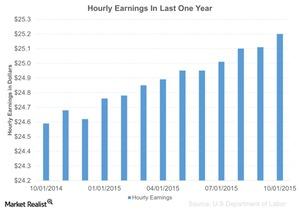 Strong Wage Growth Was Seen in October
By Mark Jonker

Nov. 9 2015, Published 5:31 p.m. ET
Hourly earnings increase
On Friday, November 6, 2015, the U.S. Department of Labor released the average hourly earnings of workers in the United States, which indicated an improving labor market and a probable rate hike by the Fed.
The average hourly earnings on private, nonfarm payrolls rose by 9 cents to reach $25.20 per hour. Wages have now grown by 2.5% on a year-to-date basis in 2015, which is the highest growth since 2010. Let's have a look at the United States wage growth chart.
As can be seen in the above chart, October 2015 saw substantial wage growth, but what does it mean to the consumer discretionary sector of retail (XRT) (XLY)?
Article continues below advertisement
Implication to consumer discretionary sector
The wage growth can be looked upon by investors in the consumer discretionary sector from two points of view. The first is its importance toward the top-line growth of retail companies, and the second is its effect on companies' margins.
As explained earlier, as labor conditions become better, consumer spending rises, which affects the top-line growth of a company. On the other hand, companies also have to raise their employees' wages, and this would affect their margins.
The companies which will feel the most pressure due to rising wages are those which generate the least amount of revenue per employee. Brick-and-mortar companies have large amounts of employee costs and thus generate less revenue per employee.
Brick-and-mortar stores Macy's (M) and Ross stores (ROST) generated $168,000 and $155,000, respectively, in revenue per employee in the last fiscal year, while online companies Amazon.com (AMZN) and eBay (EBAY) comparatively generated $577,000 and $517,000, respectively, in revenue per employee.
After such strong data from the labor department, an investor should take a glance at the consumer discretionary sector, which could be a game changer. We'll analyze its history, as well as its probable future performance, in the next article.