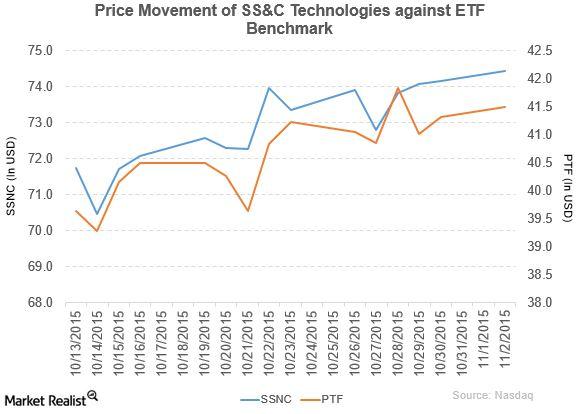 SS&C Technologies' Earnings Rose after 3Q15 Report
SS&C Technologies' price movement
SS&C Technologies (SSNC) has a market cap of $7.2 billion. SS&C's YTD (or year-to-date) price movement has been rising quarter-over-quarter in 2015. After the company's 3Q15 earnings report, it rose by 0.4% to close at $74.5 per share as of November 2, 2015, with a rise in revenue of 32.0% in 3Q15. The company's price movement on a weekly, monthly, and YTD basis is 0.7%, 3.6%, and 28.0%, respectively.
The stock broke the support of the 20-day and 50-day moving averages throughout 2015. Currently, the stock trading at 2.3% above the 20-day moving average, 5.5% above the 50-day moving average, and 16.1% above the 200-day moving average.
The PowerShares DWA Technology Momentum ETF (PTF) invests 2.6% of its holdings in SS&C. The ETF tracks an index of US tech firms selected and weighted by price momentum. The YTD price movement of the PTF ETF was 9.0% as of October 30, 2015.
Article continues below advertisement
Performance of SS&C Technologies in 3Q15
The company reported a net revenue of $280.9 million in 3Q15, a rise of 32.0% when compared to the net revenue of $212.8 million in 2Q15. The cost of revenue as a percentage of revenue and operating expense as a percentage of revenue rose by 5.9% and 90.5%, respectively, in 3Q15 on a quarterly basis. The net income and EPS (earnings per share) fell to -$34.6 million and -$0.36 per share in 3Q15, respectively, as compared to the net income and EPS of $39.1 million and $0.44 per share in 2Q15.
Meanwhile, cash and cash equivalents fell by 31.0%, and accounts receivables rose by 64.0% in 3Q15. The current ratio fell to 2.14, and the debt-to-equity ratio rose to 1.78 in 3Q15. This is compared to the respective current ratio and debt-to-equity ratio of 5.62 and 0.33 in 2Q15.
Article continues below advertisement
Key activities in 3Q15
In 3Q15, the company appointed Bob Shepro as a senior vice president, responsible for a new business unit. The new business unit focused on meeting the unique needs of the private capital market. The company also completed the acquisition of Advent Software, a provider of software and services for the global investment management industry.
Other key activities and events include:
Chrysalis Financial selected Precision LM, SS&C's next generation commercial loan management suite.
SS&C announced the acquisition of Citigroup's Alternative Investor Services business that includes Hedge Fund Services and Private Equity Fund Services, for $425 million, subject to certain adjustments.
SS&C acquired Varden Technologies and Primatics Financial for ~$122 million on a cash and debt-free basis from The Carlyle Group.
SS&C announced continued growth for SS&C HiPortfolio and Anova among new and existing customers after the acquisition of DST Global Solutions.
The company declared a quarterly dividend of $0.125 per share on its common stock.
The company launched Evare Data Services Portal, a managed service for financial data acquisition, normalization, transformation, and delivery, serving as a data transformations hub for over 500 financial services firms.
About SS&C Technologies
SS&C provides cloud-based services and software for the global financial services industry. It provides solutions for fund administration, insurance and pension funds, and asset and wealth management accounting and operations.