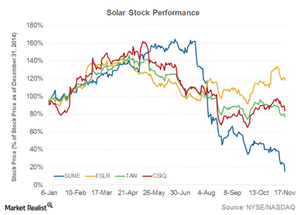 Why Did the Solar Sector Underperform the S&P 500 in 3Q15?
Solar stocks
With 3Q15 earnings season over and all eyes shifted to 4Q15 and beyond, we're taking an opportunity to update our readers on the 3Q15 earnings of all major American solar companies. We'll cover SunEdison (SUNE), FirstSolar (FSLR), and Canadian Solar (CSIQ) as part of this series. These companies primarily operate in the utilities space. Companies like SolarCity (SCTY), SunPower (SPWR), Vivint Solar (VSLR), and SunRun (RUN) have a substantial presence in the residential solar space.
Note that we're excluding Chinese companies. The target markets for these companies are different from those for the American players we listed above.
Article continues below advertisement
Stock market performance
3Q15 wasn't good for solar stocks, as rate hike worries and low energy prices weighed heavily on the sector. As a capital-intensive sector, the renewable energy sector is sensitive to interest rates. An increase in interest rates would mean higher a cost of capital for setting up renewable energy plants. Weak natural gas prices in 3Q15 also affected solar stocks. Weak conventional energy prices would mean diminishing economic incentives to set up alternative energy plants.
The Guggenheim Solar ETF (TAN) fell 32.2% in 3Q15. The broad-based SPDR S&P500 ETF (SPY) fell 6.9%. From the end of 3Q15 to November 16, TAN rose 3.2% compared to SPY's 7.3% rise during the same period.
We'll look at each company's operational, financial, and stock market performance from the next part of this series onwards.