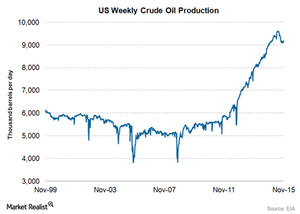 Is Slowing US Crude Oil Production a 'Silver Lining' for Oil Prices?
US crude oil production 
The US weekly crude oil production rose slightly by 25,000 bpd (barrels per day) to 9.2 MMbpd (million barrels per day) for the week ending November 6, 2015. Similarly, the US crude oil production rose by 89,000 bpd in the last four weeks as of November 12, 2015. The monthly US crude oil production peaked at 9.6 MMbpd in April 2015 and bottomed at 9 MMbpd in September 2015. The US production hit a record due to the availability of cheaper credit facilities and technological advancements. In contrast, the production is slowing due to oversupply and lower oil prices.
Article continues below advertisement
US crude oil production in 2014  
The US crude oil production averaged 9.2 MMbpd during this period of the year in 2014. Currently, the US production is 1.3% more than the production during the same period last year. The recent slowdown in production could benefit oil prices. However, crude oil rig counts tell a different story. Read the next part of the series to learn more about the US crude oil rig count.
In its November STEO (Short-Term Energy Outlook) report, the EIA published that the total US production averaged 7.5 MMbpd and 8.7 MMbpd, respectively, in 2013 and 2014. It's expected to rise to 9.3 MMbpd in 2015. Then, it's expected to fall to 8.8 MMbpd in 2016. The fall in the US production could support oil prices and oil producers like ConocoPhillips (COP), Occidental Petroleum (OXY), Hess (HES), and Chevron (CVX). They could benefit from higher oil prices.
ETFs like the iShares U.S. Oil & Gas Exploration & Production ETF (IEO) benefit from higher oil prices. In contrast, ETFs like the ProShares UltraShort Bloomberg Crude Oil ETF (SCO) benefit from lower crude oil prices.