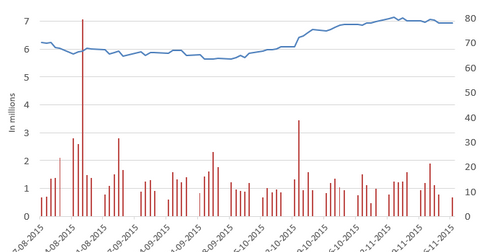 SAP Joined Tech Mahindra to Deliver Solutions for IoT
By Parker Thomas

Updated
SAP extends its product line
SAP and Tech Mahindra will be working together to provide a comprehensive solution for IoT (Internet of Things), which will involve collecting data on vehicle performance, velocity, and usage. SAP will collaborate with Tangoe to deliver solutions to clients by leveraging the SAP HANA platform. SAP has allotted a separate unit for IoT by extending its product line for IoT-focused products and services.
Article continues below advertisement
SAP HANA platform
As part of this collaboration, Tech Mahindra has funded an internal startup that will be working with SAP for the development of applications based on the SAP HANA platform. It will allow tracking an electric vehicle charging station and monitoring vehicle performance and driving patterns.
Upon implementing SAP HANA, the charging station can monitor an electric vehicle without any human interaction. It will enable the intelligent charging station to control and analyze the power consumed by transformers on a real-time basis and schedule the charging based on usage to avoid bottlenecks.
SAP partner Tangoe, a global leader in powering connected enterprises through connection life-cycle management, will be leveraging SAP HANA for its Matrix solution suite.
Tangoe with its Matrix is capable of delivering enhanced analytics and online transaction processing (or OLTP), which will enable clients to analyze and optimize IT assets and expenses. It will help corporate clients understand the usage of connection in the workplace, which includes mobile, cloud, machines, and IT communications.
Tanja Rueckert, SAP's executive vice president, Internet of Things & Customer Innovation, said, "SAP is in a unique position to succeed as an IoT market and thought leader, and spearhead innovation in this area."
The Power Shares QQQ ETF (QQQ) is a portfolio of 107 stocks. The top four stocks, Apple (AAPL), Microsoft (MSFT), Amazon (AMZN), and Google (GOOG), constitute 13.0%, 7.4%, 5.1, and 4.5%, respectively.