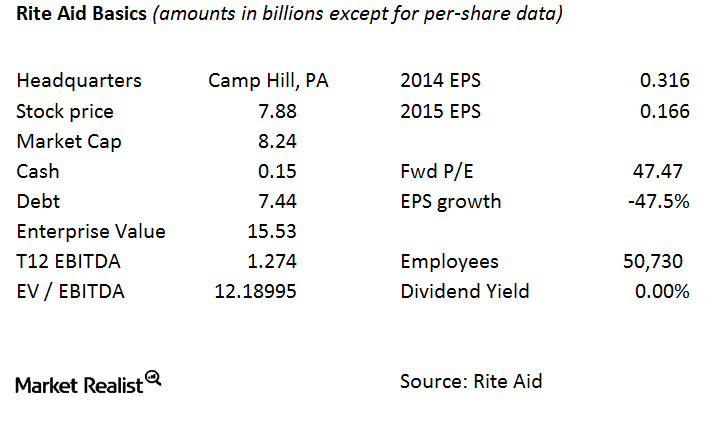 Rite Aid-Walgreens Merger: What Does Rite Aid Bring to the Table?
By Brent Nyitray, CFA, MBA

Nov. 12 2015, Updated 9:01 a.m. ET
Rite Aid is a national drugstore chain
Rite Aid is the third largest retail drugstore chain in the United States based on both revenues and number of stores. As of the end of fiscal 2014, the company operated 4,570 stores in 31 states and the District of Columbia.
Rite Aid offers prescription drugs and other merchandise, which it refers to as "front-end" merchandise. Front-end merchandise consists of health and beauty products, greeting cards, and various types of candies and snacks. Prescription drugs account for about 69% of sales. Rite Aid has a strategic partnership with GNC, and about half of Rite Aid stores contain a GNC store within the Rite Aid store.
Article continues below advertisement
The Affordable Care Act has encouraged drugstores to get into the pharmacy benefit management business. Rite Aid's purchase of Envision Pharmaceutical Services a couple of years ago was part of the reason for the Rite Aid-Walgreens merger in the first place. The acquisition was a way for Walgreens Boots Alliance (WBA) to compete more effectively with rival CVS (CVS).
To drive growth going forward, drugstores are now offering wellness services, which include everything from immunizations to partnerships with physicians. Vaccine Central is Rite Aid's immunization service, which covers everything from regular flu shots to children's immunizations.
Another offering is Health Dialog, which is a wellness program that helps individuals and companies achieve better health options by using coaching and content. Health Dialog also includes an analytics service that companies can use to help manage their healthcare spending.
Other merger arbitrage resources