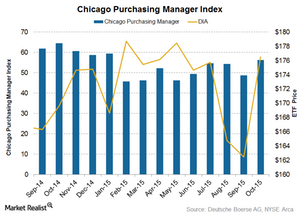 Production and New Orders Look Positive for Manufacturing in October
October Chicago PMI jumps
In October 2015, the Chicago PMI (purchasing managers' index) dropped by 7.5 points, to 56.2 from 48.7 as seen in September. Still, this was one of the highest readings since January 2015. Increases in production and new orders appear to have boosted the index, and as of October 30, the SPDR Dow Jones Industrial Average ETF Trust (DIA) gained 8.6% from the prior month.
Meanwhile, companies such as Rockwell Collins (COL), L-3 Communications Holdings (LLL), Expeditors International of Washington (EXPD), and Emerson Electric Company (EMR) saw jumps of 5.9%, 20.9%, 5.8%, and 6.9%, respectively, over the same period.
Article continues below advertisement
Production and new orders
As mentioned above, an increase in production just under 20 points to 63.4 and a sharp rise in new orders also contributed to the rise in the Chicago PMI in October 2015. We also saw significant growth in inventories. However, backlog order has dropped even further below the 50 neutral level, with firm output and sufficient at disposal.
So although demand is rising, new hiring fell back to just above neutral level in October. The PMI release also mentioned the non-availability of qualified workers, however. Meanwhile, falling crude and commodity prices, though slightly up, saw a slight contraction in prices paid in October.
Expansionary environment
As Chief Economist of MNI Indicators, Philip Uglow, said in a press release following this latest Chicago PMI release, "The disappointing September data look more like an aberration than the start of a trend, and the October results mark a good start to the final quarter of the year." Uglow added that "respondents were optimistic that orders will continue to pick-up, consistent with an acceleration in economic activity in Q4."
The movement of the Chicago PMI above neutral level in October indicates an expansionary environment and suggests that the economy is making an effort to regain strength. Although the global climate remains challenging, manufacturing is still poised to grow strongly with these increases in new orders and production.
With manufacturing jumping, let's look at how consumer sentiment shaped up in October in the next part of this series.