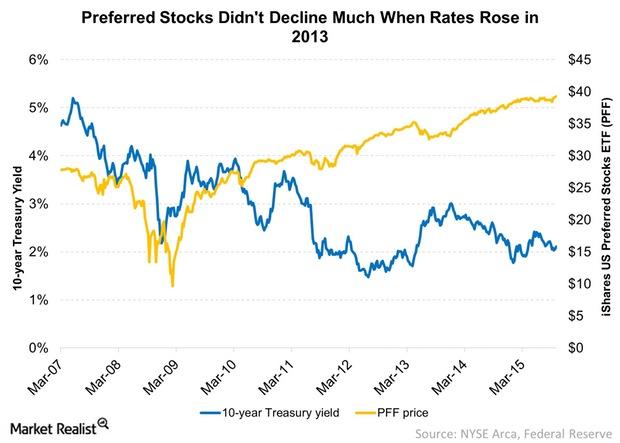 Do Preferred Stocks Underperform When Rates Rise?
By Jane Leung, CFA

Nov. 6 2015, Updated 3:31 p.m. ET
Starting at the beginning
First thing's first: what are preferred stocks? Put simply, they're income-generating securities that have both stock and bond characteristics. When it comes to risk, they're somewhere in the middle of the spectrum, between common stocks (more risky) and traditional bonds (less risky). Similar to a bond's coupon payment, preferred stocks pay fixed or floating dividends. They can appreciate in value like a common stock, but they're not as volatile as a common stock.
Article continues below advertisement
Market Realist – Do preferred stocks underperform when rates rise?
While most preferred stocks do have some bond-like characteristics like periodic coupon payments and fixed maturities, unlike common equities (RSP)(IWB), a rising interest rate scenario doesn't necessarily affect preferred stocks negatively.
The graph above compares the yield on the ten-year Treasury (TLH) with the iShares US Preferred Stocks ETF (PFF), which, as the name suggests, tracks preferred stocks in the United States.
In the previous significant rising rate scenario during the taper tantrum, preferred stocks held up pretty well. Between May 2013 and September 2013, ten-year yields went up quite a bit. Yields went from 1.7% in May up to 2.9% in September, which is a ~70% increase, meaning bond prices dropped significantly. In the same period, preferred stocks fell by only 5.6%. When rates rose on several other occasions, preferred stocks weren't negatively affected.
Fears of preferred stocks underperforming when the Fed hikes rates seem overblown because interest rates would not rise high enough to make the yields on preferred stocks unattractive. Also, preferred stocks tend to offer floating rates nowadays, which negates the effect of rising rates.
In a later part of this series, we will touch upon why preferred stocks (PGX) could perform well in a rising rate scenario.