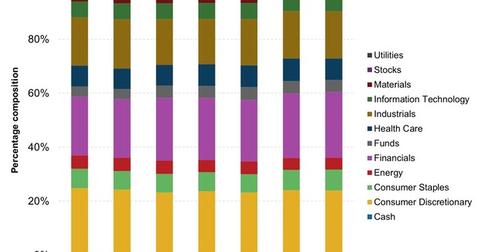 Portfolio Positioning of the Invesco European Growth Fund
By David Ashworth

Updated
Invesco European Growth Fund
The Invesco European Growth Fund Class A (AEDAX) "seeks long-term growth of capital by investing in reasonably priced, quality companies in the European region, with strong fundamentals and/or accelerating earnings growth."
The fund house employs four criteria in determining whether an issuer is in Europe:
it's organized under the laws of a country in Europe
it has a principal office in a country in Europe
it derives 50% or more of its total revenues from business in countries in Europe
its securities are trading principally on a security exchange, or in an over-the-counter market, in a country in Europe.
Fund managers invest across market-cap. However, the small and mid-cap space is their primary focus area. Fund management emphasizes fundamental research while choosing securities for the portfolio. Sector and country trends are of secondary importance to fund managers.
Article continues below advertisement
The fund is well-diversified, with 70 holdings as of October 2015 and it was managing assets worth $1.6 billion. As of the October portfolio, its top ten equity holdings included British American Tobacco (BTI), RELX (RELX), WPP (WPPGY), and UBS Group (UBS), comprising 8.3% of the fund's portfolio. As of the September portfolio holding, it was also invested into Carlsberg (CABGY), and SAP (SAP).
Historical portfolios
For this analysis, we'll be considering holdings as of September 2015, as that is the latest available sectoral breakdown with us. The holdings after September reflect the valuation-driven changes to the portfolio, not the actual holding.
Over the course of the one-year period ended October 2015, the fund has added two stocks to the consumer discretionary sector while liquidating one. Also, the weight of the sector in the portfolio has risen a bit. Meanwhile, the consumer staples sector makes less of the portfolio than it used to a year earlier.
Financials have seen a sizable rise in the portfolio. They used to form 16.7% of the portfolio in October 2014 but rose to over 23% at present. Comparatively, allocation to the health care sector fell from a year ago. The sector used to form ~10% of the portfolio but now forms less than 8%.
Next, let's take a look at the performance of the fund across the period ended September and what contributed to it.