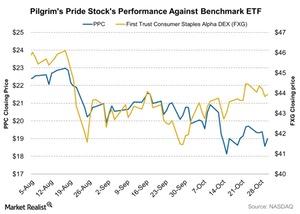 Pilgrim's Pride Stock Reacted to October 29 Earnings Release
By Sushree Mohanty

Updated
Stock price performance
On October 29, 2015, Pilgrim's Pride (PPC) reported its 3Q15 results. PPC shares fell 4% following the earnings release, closing at $18.57 on October 29.
However, the stock started rising in mid-morning trading on October 30 in spite of the company's disappointing performance. It rose 4.1%, trading at $19.33 and finally closing at $18.99 that day. The company lowered its price target to $23 from $26.
Pilgrim's Pride continues to believe that its diversified operations will continue to benefit shareholders, despite other setbacks such as challenging export markets.
Pilgrim's Pride engages in the production, processing, marketing, and distribution of fresh, frozen, and value-added chicken products to retailers, distributors, and food service operators in the United States, Mexico, and Puerto Rico. It's part of the processed and packaged food industry.
Pilgrim's Pride's peers in the industry are J.M.Smucker (SJM), General Mills (GIS), and Tyson Foods (TSN), which trade on the New York Stock Exchange. They closed at $117.39, $58.11, and $44.36, respectively, on October 30.
The First Trust Consumer Staples Alpha DEX ETF (FXG) invests 5.1% of its portfolio in PPC. It reported a year-to-date return of 3.2%. The Compass EMP US Large Cap High Dividend Volatility 100 Volatility Weighted Index ETF (CDL) invests 0.37% of its portfolio in PPC.
Article continues below advertisement
Key highlights of 3Q15
Pilgrim's Pride's (PPC) 3Q15 profit fell sharply with lower reported sales following export restrictions after the outbreak of the avian flu.
The company reported a net income of $137.1 million, down 46.4% year-over-year.
The company generated net revenue of $2,112.5 million, down 6.9% year-over-year.
Its cost of sales declined 1% year-over-year to $1,828 million.
Gross margin fell year-over-year to 13.5%.
Selling, general, and administrative expenses rose 17.9% year-over-year to $52.6 million.
Adjusted EBITDA (earnings before interest, taxes, depreciation, and amortization) was down 37.9% year-over-year to $274.3 million.
Management's remarks
Bill Lovette, Pilgrim's Pride's chief executive officer, said, "The continued challenges in the export markets, the strong dollar and the lowest chicken cutout in the past five years during Q3 have had an impact on the commodity segments of our business, and on our U.S. export and Mexico sales. Additionally, non-routine costs at two of our facilities further weighed on our results. Despite these challenges, our team has managed to produce solid margins compared to periods when prices were at similar levels."