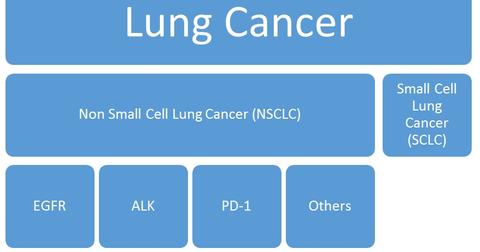 Pfizer's Xalkori Approved by the European Commission
By Mike Benson

Updated
Xalkori approved for label update
Pfizer's (PFE) oncology drug Xalkori, also termed Crizotinib, was approved for label expansion and label update by the European Commission (or EC) on November 25, 2015, for use as a first-line treatment of patients with anaplastic lymphoma kinase-positive (or ALK+) advanced non-small cell lung cancer (or NSCLC).
Xalkori's approval for the first-line treatment setup by the European Commission is a positive sign for Pfizer. This approval was based on the efficacy data from the Profile 1014 study that was the second global Phase III study that evaluated progression-free survival (or PFS) for Xalkori.
Article continues below advertisement
According to the National Cancer Institute, lung cancer is the leading cause of cancer death in the United States, with ~221,000 new diagnoses and ~158,000 deaths in 2015. The most common type of lung cancer is non-small cell lung cancer. This type occurs when cancer cells form in the tissues of the lung. Approximately 85% of all lung cancers in the US are NSCLC. Each year, nearly 45,000 cases of ALK+ advanced NSCLC are registered worldwide.
Details for Xalkori
Xalkori is an anaplastic lymphoma kinase (or ALK) inhibitor for the treatment of non-small cell lung cancer that's caused by a defect in the ALK gene, with cancer spreading to other parts of the body.
The ALK gene exists in the cells of human beings. At times, a part of this gene breaks off and gets attached to the broken part in a wrong way, leading to a defect in the gene. The defect in the ALK gene then leads to the multiplication of the cell in an uncontrollable manner, leading to the growth of advanced lung cancer known as ALK+ non-small cell lung cancer.
Xalkori is an ALK inhibitor that blocks the action of the defective ALK gene. This in turn slows down the growth of tumors in the body.
Xalkori is the first ALK inhibitor that was approved by regulatory authorities in the United States and Europe. It's approved for use as an oral ALK inhibitor in over 85 countries.
Some of the inhibitors used to treat various types of cancer include Iressa from AstraZeneca (AZN), Tarceva from Astellas Pharma (ALPMY), Tykerb from Novartis (NVS), Erbitux from Eli Lilly (LLY), and Vectibix from Amgen (AMGN). Both the MSCI Health Care Index ETF (FHLC) and the iShares Global Healthcare ETF (IXJ) hold investments in Pfizer.