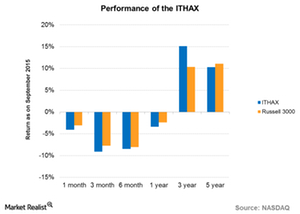 Performance Analysis: The Hartford Capital Appreciation Fund
The Hartford Capital fund's performance
The Hartford Capital Appreciation Fund (ITHAX) gained 11.3% for the month ending October 29, 2015. Meanwhile, the Russell 3000 Index, its benchmark index, rose 10.6% for the same period. For the third quarter ending September 2015, the fund fell by 9.1% due to uncertainty regarding a rate hike in the United States and falling Brent crude oil prices.
Article continues below advertisement
Comparison with benchmark
The ITHAX fund underperformed its benchmark in the one-year period, since as the fund fell by 6.3%, the Russell 3000 Index only fell by 2.4%. The ITHAX fund has generated positive returns of 18.6% for the last three years ending October 29, 2015, while the fund generated returns of 11.2% in the last five years.
Top holding performance
The top ten holdings of the ITHAX fund as of September 2015 include Allergan (AGN) at 2.6% of the fund's net assets. The Allergan stock fell by 10.5% in September 2015. Alphabet (GOOG), with a portfolio weight of 2.2%, fell by 1.6% in September 2015. JPMorgan Chase (JPM), with a portfolio weight of 1.9%, fell by 4.9% in September. Meanwhile, Apple (AAPL), with a portfolio weight of 1.7%, fell by 2.2% in September.
For the period ending September, the material and energy sectors in the S&P 500 were among the top losing sectors with returns of -7.4% and –6.7%, respectively. Since the ITHAX fund has only 4.2% of its assets in the energy sector and 3.2% in the materials sector, the fund was less impacted by any sharp falls in the sectors. Its exposure to the energy sector is less than the 7.2% invested by the Russell 3000 Index in the sector.
On the other hand, due to their large allocation, the healthcare, financials, and information technology sectors influenced the returns of the fund. The returns of these sectors fell 5.7%, 3%, and 2.3%, respectively, for September.