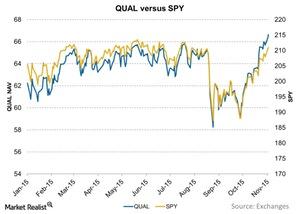 A Methodology Overview of the First Trust Value Line Dividend Index Fund
By Ivan Kading

Nov. 6 2015, Updated 4:59 p.m. ET
Focus on regular income and capital appreciation
The First Trust Value Line Dividend Index Fund (FVD) is a smart beta fund by First Trust that seeks to replicate the performance of the Value Line Dividend Index. The underlying index is a modified, dollar-weighted index and has a unique stock selection process that chooses stocks listed only in the US that pay above average dividends and have the potential for capital appreciation.
All the stocks in the index that are determined "value line" are given a safety ranking that measures the total risk of the given stock relative to other stocks.
Article continues below advertisement
Performance outlook
The above chart compares the YTD (year-to-date) performance of FVD with S&P 500 as of November 5, 2015. FVD has alternatively led and lagged behind the S&P 500 (SPY) in the first and the second quarters of 2015, respectively. But overall, FVD's investment methodology on the basis of dividends appears to have worked so far in 2015 because as of November 5, FVD marginally outperformed the market with an annual total return of 5.6% in 2015, compared to the annual total returns of 5.5% from SPY. The expense ratio of FVD was 1.28% as of November 5.
Portfolio components
The top five holdings of FVD are AbbVie (ABBV), BOK Financial Corporation (BOKF), Chevron Corporation (CVX), MSC Industrial Direct (MSM), and ConocoPhillips (COP). FVD invests more than 90% of its net assets in the components of its index as defined by their principal investment strategies in the fund's prospectus. FVD currently manages a total portfolio of 172 stocks distributed majorly in Consumer Staples, Utilities and Information Technology sector.
Continue to the next part of this series for a fund flow analysis of the First Trust Value Line Dividend Index Fund (FVD).