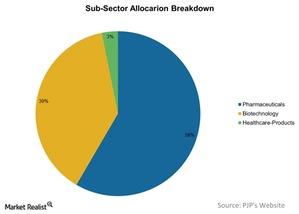 The PowerShares Dynamic Pharmaceuticals ETF: Holdings Breakdown
By Ivan Kading

Updated
Use of concentration policy
As of November 2015, the PowerShares Dynamic Pharmaceuticals ETF (PJP) was one of the top-performing smart beta ETFs in the market. PJP manages a subtle portfolio of 30 common stocks primarily from the pharmaceutical industry that have strong potential for capital appreciation. The index provider also follows a concentration policy, which clearly defines that the fund will concentrate its assets in companies that its underlying Intellidex index defines as belonging to the pharmaceutical subsector.
Article continues below advertisement
Sector allocation
The fund currently manages a total net asset of $1.63 billion, which is distributed across the pharmaceutical, biotechnology, and healthcare products subsectors. The pharmaceutical subsector represents 58.41% of the whole PJP, which clearly defines it as a pharmaceutical sectoral fund.
Moving averages and earnings
Bristol-Myers Squibb Company (BMY), Johnson & Johnson (JNJ), Pfizer (PFE), Amgen (AMGN), and Gilead Sciences (GILD) represent the top five holdings of PJP. As of early November 2015, the pharmaceutical subsector, which is the heaviest-weighted subsector of PJP, was trading above its 20-day, 50-day, and 100-day moving averages due to high earnings, which beat analyst estimates by 8.94% in 3Q15.
The biotechnology sector—the other major component of PJP—was also trading above its 20-day average, but it was trading below its 50-day and 100-day moving averages due to the sector's poor performance in 3Q15. The biotechnology subsector, however, looks strong as its earnings in 3Q15 beat analyst estimates by 11.09%.
In the next and final part of this series, we'll analyze the benefits and risks of investing in PJP.