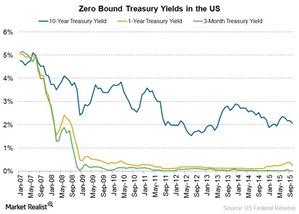 How an Operational Switch Could Benefit the US Economy
A steeper yield curve could help accelerate growth
Bill Gross believes that a steeper yield curve could help accelerate growth in the US economy (SPY). With short-term yields being zero bound, and long-term yields dampened by low growth and inflation expectations, an "operational switch" could help, as proposed in the Investment Outlook for November by Gross.
Article continues below advertisement
Further details on the operational Switch
Gross draws a corollary from "Operation Twist" in 2012. Back then, the Fed sold 2–5 year notes (SHY) (IEF) and reinvested the proceeds in Treasuries (TLT) (TBT) that were dated longer. In today's situation, Gross suggests that the Fed should do the reverse. "The Fed now holds upwards of $2 trillion longer dated Treasuries and mortgages that can be 'switched' into 2–5 year paper, steepening the yield curve and benefiting savers, liability based businesses, and the economy itself."
Increased selling of long-term Treasuries could help lower the price and raise the yields of these bonds. Thus, the farther end of the yield curve should see a lift, resulting in a steeper yield curve, as short-term yields are already zero bound.
Gross on Janet Yellen and Mario Draghi
Gross has suggested the ways discussed above to the Fed to help make the yield curve steeper, but he also doubts that the Fed will adopt any of his suggested approaches. "Yellen and Draghi believe in the Taylor model and the Phillips curve," said Gross. Gross is a non-believer in the effectiveness of these models in the current situation in the United States.