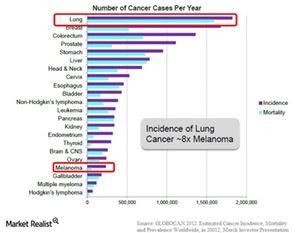 Opdivo's sBLA Accepted by FDA for Priority Review
By Mike Benson

Nov. 20 2015, Published 10:42 a.m. ET
FDA accepts Opdivo sBLA
Bristol-Myers Squibb Company's (BMY) Opdivo has been approved by the U.S. Food and Drug Administration, or FDA, for the treatment of melanoma, a type of skin cancer, and advanced non-small cell lung cancer, or NSCLC, for patients whose disease has progressed after platinum-based chemotherapy.
On November 16, 2015, BMY announced that the FDA has accepted its supplemental biologics license application, or sBLA, for Opdivo for renal cell carcinoma. Nearly 90% of total kidney cancer cases are renal cell carcinoma, which account for over 100,000 deaths worldwide every year.
Article continues below advertisement
Opdivo and its importance for Bristol-Myers Squibb
Opdivo, or nivolumab, is an antibody that blocks human programmed death receptor protein 1 (PD-1). This drug reduces tumor growth by blocking the interaction between PD-1 and its ligands.
Opdivo is a part of BMY's alliance with Ono Pharmaceutical Company. It is the seventh drug approved by the FDA for the treatment of patients with melanoma. BMY is conducting various studies under its Checkmate series to investigate Opdivo's use in anticancer treatments.
Opdivo, one of Bristol-Myers Squibb's most important products, is expected to be one of its major revenue contributors in the next five years. This drug is already approved for melanoma and lung cancer, and the FDA accepted its sBLA for priority review for its use in the treatment of renal cell carcinoma (or kidney cancer).
Opdivo in global markets
Lung cancer is key in the US markets for all pharmaceutical companies. Opdivo has already been approved by the FDA for melanoma and NSCLC. One of BMY's press releases states that the company stopped its Checkmate-025 phase 3 study for the use of Opdivo in renal cancer in July 2015. The details of this study are discussed in following parts of this series.
Per the company's press release, the European Commission approved Opdivo in June 2015. This makes Opdivo the one and only PD-1 inhibitor approved for both first- and second-line treatment for advanced melanoma patients in Europe.
Other drugs used for the treatment of renal cell carcinoma include Genentech's Avastin, Pfizer's (PFE) Inlyta and Sutent, and Bayer HealthCare Pharmaceuticals' Nexavar. Opdivo competes with Merck's (MRK) Keytruda, GlaxoSmithKline's (GSK) Mekinist and Tafinlar, and Roche's Zelboraf.
To diversify risk, investors can consider ETFs such as the Health Care Select Sector SPDR Fund (XLV), which holds ~3.8% of its total investments in Bristol-Myers Squibb, or the iShares US Pharmaceuticals ETF (IHE).