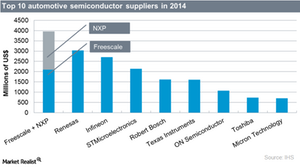 NXP-Freescale Merger Threatens Infineon and Renesas
By Puja Tayal

Nov. 26 2015, Updated 8:06 a.m. ET
Infineon and Renesas fear competition from NXP-Freescale merger
In the previous part of the series, we saw that the merger of NXP Semiconductors (NXPI) and Freescale Semiconductor (FSL) has threatened other automotive and industrial semiconductor manufacturers. Renesas and Infineon, which currently hold the top two ranks in the automotive semiconductor space, will lose market share to the NXP-Freescale merged company.
Hence, both Renesas and Infineon are looking to expand aggressively through acquisitions. Renesas has set aside $2.4 billion in cash to fund future acquisitions. Infineon can spend up to $4.5 billion while maintaining a favorable balance sheet, according to Morgan Stanley analyst Francois Meunier.
Article continues below advertisement
Market scenario following NXP-Freescale merger
In the semiconductor market, companies are consolidating to drive growth, expand product portfolio, and gain market share. ON Semiconductor (ON) recently acquired Fairchild Semiconductor (FCS) for $2.4 billion. STMicroelectronics, Renesas, and Infineon are also looking to acquire companies that fit their growth strategies.
Before the Freescale-NXP merger, the two companies were in the fourth and fifth positions in the market. Post-merger, the combined entity will replace Renesas in the first position, pushing it to the second position by a significant margin. In an already mature semiconductor market, such competition poses a threat to Renesas and Infineon. Let's look at the odds if Renesas and Infineon combine.
Odds of Renesas-Infineon merger
Renesas and Infineon together held a 19.7% share in the automotive semiconductor market in 2014 and had combined revenues of $6.3 billion in 1H15. On the other hand, NXP and Freescale together held a 13.4% share in the automotive semiconductor market in 2014 and had combined revenues of $5.6 billion in 1H15. If Renesas and Infineon combine, they can give tough competition to NXP and Freescale.
Renesas's efforts to fight competition
Renesas is looking to acquire companies and is willing to fund this thorough its cash reserves and by raising debt. This comes at a time when the company itself is an acquisition target.
As we saw in the previous articles, the company's biggest shareholder, Innovation Network, is looking to sell its stake in the company after bailing it out in 2012. In the next part of the series, we'll understand what makes Renesas an acquisition target.
The PowerShares QQQ ETF (QQQ) has a 0.38% holding in NXP Semiconductors.