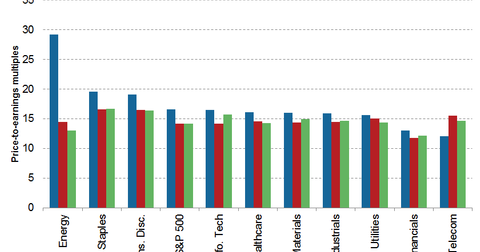 Why Now May Be a Good Time to Diversify Broadly
By Dennis Stattman

Nov. 20 2015, Published 4:14 p.m. ET
Why Now May Be a Good Time to Diversify Broadly
While Mr. Stattman would argue there is never a bad time to be flexible, broadly diversified and value oriented in your investment approach, current conditions may reinforce the case:
1. Rising Volatility Stoked by events in places like Greece and China, and a Fed ready to raise interest rates here at home. Investors should expect more dramatic ups and downs.

2. Bonds offer little value at current levels and are subject to greater volatility (and price losses) as interest rates rise. Investors need broader diversification to achieve a proper balance of risk/reward.
Article continues below advertisement
3. After a six-year bull run, U.S. stocks are not cheap. Going forward, stock price appreciation will need to come from company earnings, and not multiple expansion. But those earnings may be harder for companies to come by now, particularly given a lack of confidence that the U.S. consumer and the housing market can continue to drive improving U.S. economic growth. Add to that the fact that a strong U.S. dollar makes U.S. goods pricey (thus less competitive) overseas. Bottom line: U.S. stocks may not provide the results investors have gotten used to since 2009. Mixing it up by incorporating international stocks and other asset types makes sense.Whether you consider yourself a tortoise or a hare, we invite you to see how a broadly diversified global portfolio has been able to weather a full range of market conditions and to put your portfolio building skills to the test.
Market Realist – With the Federal Reserve poised to hike rates, the period of low volatility (VXX)(VXZ) is likely to come to an end. Now may be the time to diversify your holdings. The fourth quarter is typically known to be the quarter for tax loss harvesting. This means that investors may find some bargains in this quarter.
US markets are richly valued at the moment. The graph above depicts Robert Shiller's cyclically adjusted price-to-earnings ratio (or CAPE ratio). The CAPE ratio is a tool often used to assess valuations in markets. It is defined as the price of a share divided by the ten-year moving average of its earnings. The ratio currently stands at 26.19x, in striking distance of the valuations seen in the financial crisis of 2008.
Almost all the sectors of the S&P 500 (IVV)(VTI) are now richly valued. Except telecom, all sector valuations are now clocking in above their historical averages. This can be seen in the previous graph. Long-term investors can look at the financials sector (IYF) among US markets (VOO) to find some value. Moreover, the sector tends to do well in a rising rate environment, which is a plus for investors.
The rich valuations go to show that investors need to look outside the ambit of US markets and traditional asset classes. Read on to the next part of the series to understand how investing in alternative assets could help your portfolio.