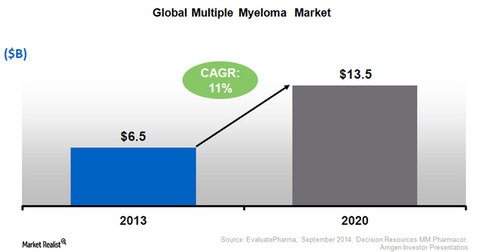 Ninlaro: The First and Only Approved Oral Proteasome Inhibitor
By Margaret Patrick

Updated
Ninlaro
Takeda Pharmaceutical Company's (TKPYY) Ninlaro is the first and only oral proteasome inhibitor therapy to be approved by the U.S. Food and Drug Administration (or FDA) for the treatment of multiple myeloma (or MM). The drug is approved for those MM patients who have received at least one prior line of treatment.
In this way, Ninlaro is indicated for a small segment of those with cancer. It has been granted the orphan drug designation (or ODD) for MM both in the United States and Europe. According to the FDA, "Orphan drug designation provides incentives such as tax credits, user fee waivers and eligibility for orphan drug exclusivity to assist and encourage the development of drugs for rare diseases."
Article continues below advertisement
Proteasome inhibitors
According to the FDA, "Ninlaro is a type of cancer drug called a proteasome inhibitor and works by blocking enzymes from multiple myeloma cells, hindering their ability to grow and survive." Ninlaro differs from other proteasome inhibitor MM therapies such as Kyprolis and Velcade in that it is an oral drug, while the others are injectables.
Proteasome inhibtors are a type of targeted cancer therapy where only cancer cells are targeted by the drug and normal cells remain unaffected. To know more about different types of cancer therapies, please refer to Key Therapies for Cancer Will Determine Biotechnology's Profits.
US investors can gain exposure to multiple MM players without bearing excessive company-specific risks by investing in the SPDR S&P 500 ETF (SPY). MM players such as Amgen, Johnson & Johnson, and Celgene account for about 0.7%, 1.5%, and 0.5% of SPY's total holdings, respectively.