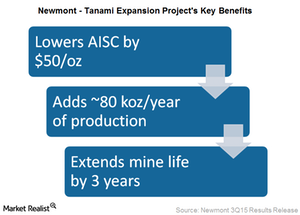 Newmont's Growth Pipeline and the Tanami Expansion Project
By Anuradha Garg

Nov. 10 2015, Updated 6:08 p.m. ET
Tanami Expansion project
One of the major announcements made by Newmont Mining (NEM) during its 3Q15 earnings release was the approval of the Tanami Expansion project. Its board of directors approved full funding of the Tanami Expansion project on October 28, 2015. The aim of this project is to increase production and lower all-in sustaining costs per ounce of the Tanami mine in Australia.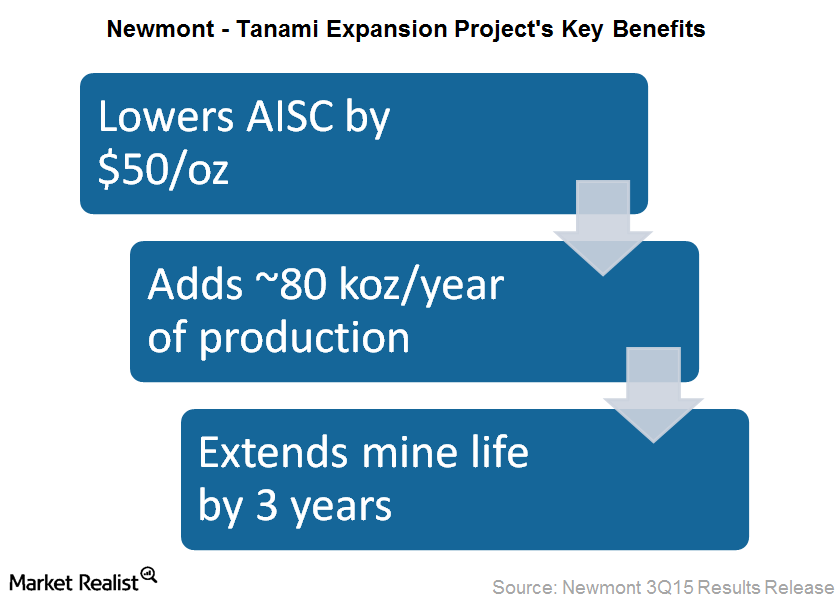 Project specifics
Article continues below advertisement
Tanami Expansion project would include constructing a second decline in the underground mine and building incremental capacity in the plant to increase profitable production. The company's management also mentioned during the call that adding the second decline would also serve as a platform for exploration drilling to support future expansions.
The Tanami Expansion project is expected to improve the gold production at Tanami by an average of 80,000 ounces annually. The project should also lower AISC (all-in sustaining costs) for Tanami by 5% to 10% ($700–$750 per ounce) for the first five years of the expansion. It could also increase the mine life by three years. The additional production from this project is expected to come online in the second half of 2017.
Attractive return potential
This particular project is the result of a detailed review of options to maximize company's near-term cash flow and long-term asset value. The project should provide a return of more than 35% at $1,100 per ounce gold price (GLD) (IAU) and 25% at gold price as low as $900 per ounce, for an investment of $100–$120 million. Newmont's management is thus understandably upbeat about this project.
While Tanami Expansion provides Newmont with a near-term production growth option, Kinross Gold Corporation's (KGC) ability to replace its gold reserves has become questionable as of late-October 2015. If Kinross's production profile gets worse over next three years as reserves fall, some of its mines would likely be closed while others transition to a lower grade. Meanwhile, Yamana Gold (AUY) is going through exploration at various mines, which resulted in higher grade asset extensions in the past.
In the next part of this series, we'll look at the advances Newmont Mining has made on costs as of 3Q15—and how far it still has to go.