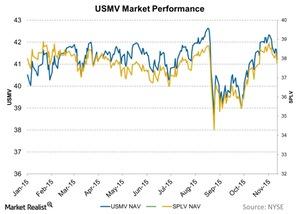 A Must-Read Structural Analysis of Minimum Volatility ETF USMV
By Ivan Kading

Updated
Minimum volatility
The iShares MSCI USA Minimum Volatility ETF (USMV) is a smart beta ETF that seeks to track the performance of the MSCI USA Minimum Volatility Index. This index selects stocks that are issued in the United States only and together have lower volatility characteristics than the broader US equity market. The stock selection process aims to reduce the overall risk of the portfolio by adding stocks that have low volatility.
Article continues below advertisement
USMV's performance in the market
The above graph compares USMV's market performance with that of the PowerShares S&P 500 Low Volatility ETF (SPLV), another smart beta volatility ETF. SPLV's stock selection methodology is similar to USMV's, one difference being SPLV's constraint for maintaining only 100 stocks in its portfolio. The graph shows that, after lagging in the initial quarters of the year, USMV started outperforming SPLV after March 2015. Due to the current weak macro environment, a downward trend can be observed for both USMV and SPLV in 4Q15.
Index creation
UMSV's top holdings include low volatility stocks such as McDonald's (MCD), AT&T (T), AutoZone (AZO), PepsiCo (PEP), and Procter & Gamble (PG). According to USMV's prospectus, "the Underlying Index begins with the MSCI USA Index, which is a capitalization-weighted index, and then follows a rules-based methodology to determine weights for securities in the index that seeks to minimize total risk of the MSCI USA Index." This means that the index provider first sorts the MSCI USA Index on the basis of minimum volatility and then assigns the highest weight to the lowest volatility stocks. In the next part of this series, we'll analyze USMV's market performance.