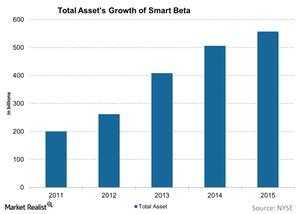 A Must-Read Overview of Smart Beta Funds
By Ivan Kading

Nov. 5 2015, Updated 4:21 p.m. ET
A different approach to investing
A smart beta fund is a modern tool for investment. It has revolutionized low-cost investing. Unlike other funds that are either actively or passively managed, smart beta funds use the combination of both of these approaches to generate higher returns than the market S&P 500 at a low cost.
A smart beta fund creates its index by modifying a traditional market index and then using a passive approach to investment. It can generate returns higher than the broader market but not higher than its index. This is a passive management trait.
Article continues below advertisement
Fast-growing asset class
The above graph from CNBC, displaying data compiled by Morningstar, clearly shows the constant growth of smart beta funds. Demand for smart beta funds has increased tremendously over the years.
There are hundreds of smart beta funds available in the market. These include the iShares MSCI USA Quality Factor ETF (QUAL), the PowerShares Buyback Achievers ETF (PKW), and the First Trust Value Line Dividend ETF (FVD). Each promises high returns at a low cost.
Common stocks included in smart beta funds are Apple (AAPL), Microsoft (MSFT), ExxonMobil (XOM), and Johnson & Johnson (JNJ).
Smart beta ETFs as a whole provide an alternative investment window for investors. Whether they should be a significant part of any particular investor's portfolio depends solely on the investor's risk-taking preferences.
In the next part of this series, we'll study a top-performing smart beta fund called the iShares MSCI USA Quality Factor ETF.