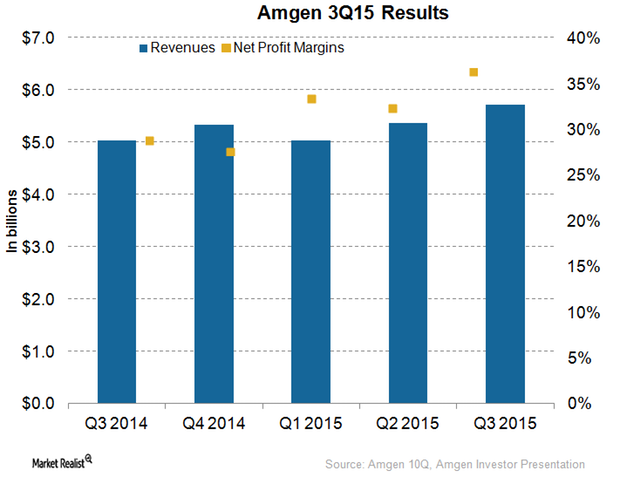 Must-Read: Amgen's 3Q15 Earnings and Conference Call
By Margaret Patrick

Dec. 4 2020, Updated 10:52 a.m. ET
3Q15 earnings
In its 3Q15 earnings report released on October 28, 2015, Amgen (AMGN) reported year-over-year (or YoY) revenue growth of about 14.0%, from $5.0 billion in 3Q14 to $5.7 billion in 3Q15. In 3Q15, the company reported diluted earnings per share (or EPS) of $2.44 and managed to beat the EPS of $2.37 estimated by Wall Street.
Article continues below advertisement
Total revenues
In 3Q15, Amgen's total revenues also exceeded Wall Street analysts' estimated revenues of $5.3 billion by about 7.3%. The company reported a net profit margin of 36.4% in 3Q15, about 7.5% higher than that recorded in 3Q14. Amgen's profit margin in 3Q15 also exceeded Wall Street analysts' projections by about 2.2%.
The company also reported a higher profit margin than its peer Biogen's (BIIB) profit margin of about 34.1%, but lower than Gilead Sciences' (GILD) profit margin of 55.4%. According to Wall Street estimates, in 3Q15, Celgene (CELG) could earn a profit margin of ~42.4%.
Strong revenue growth
In 3Q15, Amgen witnessed strong revenue growth on account of the solid performance of its key drugs such as Enbrel, Prolia, Xgeva, Sensipar, and Nplate. The company also earned milestone payments due to the filing of Kyprolis in Japan. In 3Q15, sales in the United States., Europe, and international markets rose YoY by 20%, 7%, and 3%, respectively. However, total revenues were affected negatively by approximately 2% due to unfavorable foreign exchange fluctuations.
Updated 2015 guidance
Amgen has raised its 2015 full year revenue guidance from a $21.1 billion–$21.4 billion range to a $21.4 billion–21.6 billion range, to reflect the expected strong performance of its key drugs. The guidance for adjusted EPS was also updated from $9.55–$9.80 to $9.95–$10.10. The revised guidance underlines the company's strong revenue growth and low costs in the first nine months of 2015. There are no changes in guidance for capital expenditures, already projected to be about $700 million.
Amgen accounts for 0.7% of the SPDR S&P 500 ETF's (SPY) total holdings.