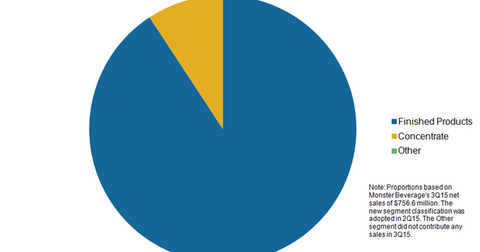 Why Monster Gained from Coca-Cola's Energy Drink Brands in 3Q15
By Sirisha Bhogaraju

Updated
Addition of new brands
With the completion of its strategic deal with Coca-Cola (KO) in June 2015, Monster Beverage's energy drinks portfolio expanded to include Coca-Cola's energy drink brands, including NOS, Full Throttle, Burn, Mother, Play, Power Play, Relentless, and Nalu. Effective after the closure of this deal in 2Q15, Monster Beverage revised its segment classification into three segments: Finished Products, Concentrate, and Other. The Concentrate segment mostly includes the energy drink brands (also called "strategic brands") acquired from Coca-Cola.
Article continues below advertisement
Segment performance
In 3Q15, the net sales of Monster Beverage's Finished Products segment, which comprises the company's Monster Energy drink brands, grew 15.5% to $686.7 million. The segment's operating income increased by 25.3% to $289.5 million in 3Q15.
Net sales of the Concentrate segment, which includes Coca-Cola's energy drink brands, were $69.9 million in 3Q15 and operating income was $45.3 million. Currency headwinds affected net sales of the Finished Products segment and Concentrate segment by $23.1 million and $5.5 million, respectively.
The Other segment didn't contribute any sales in 3Q15, as it includes brands that were transferred to Coca-Cola in 2Q15. The Other segment contributed $41.6 million of net sales in the third quarter of the previous year.
Monster Beverage and Coca-Cola together account for 1.1% of the portfolio holdings in the iShares S&P 500 Growth ETF (IVW) and 0.9% of the SPDR S&P 500 ETF (SPY).
New products
Aside from benefitting from the addition of Coca-Cola brands to its portfolio, Monster Beverage is also focusing on repositioning some its existing brands as well as launching some new products. In November 2015, Monster Beverage is planning a nationwide launch of Pipeline Punch and Ultra Black. The repositioning of the Monster Energy Rehab, Juice Monster, and Punch Monster lines has been yielding positive results.