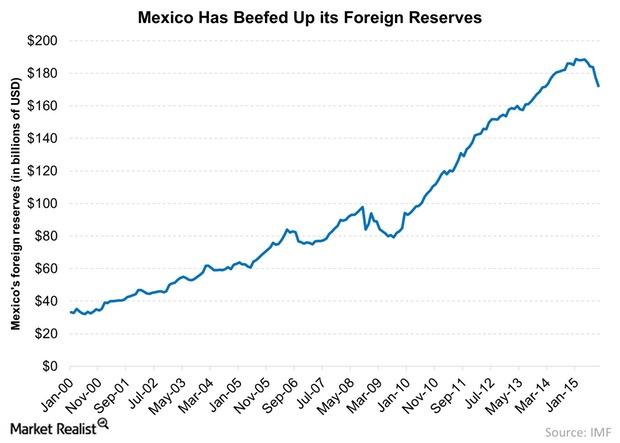 Why Monetary Policy Is Actually a Bright Spot in Mexico
By Andrew Stanners

Nov. 18 2015, Updated 3:34 p.m. ET
Meanwhile, the ghosts of 1994 stalk the corridors of the central bank. Volatility in the foreign exchange market was the precursor to the Tequila Crisis back then, and any wobble in the market now worries Mexicans that a repeat is coming. The slightest tremble in the market over the last year has led individuals and small firms to move money offshore over the past year. The central bank has made it clear that it will act to stop the peso depreciating excessively and has set benchmarks for when it'll intervene to smooth volatility. That keenness could lead the central bank to raise interest rates. It will need to be clear about why it's doing so, though, so that investors don't get the impression it'll hike every time the currency depreciates. But monetary policy is actually a bright spot in Mexico. Adept Central Bank Governor Carsten has just had his term extended for another six years, which will cheer investors. He has done well over the last couple of years to contain inflation after it exceeded its 4% target, and he has consistently shown how capable he is. The spirits of 1994 remain just that.
Article continues below advertisement
Market Realist – Monetary policy is actually a bright spot in Mexico.
The Tequila Crisis occurred because of a sudden devaluation in the Mexican peso, which caused other currencies in Latin America (LAQ) to decline. Since governments and businesses in Latin America had high levels of dollar-denominated debt, the devaluation meant that it could be increasingly difficult to pay back the debts.
The graph above shows Mexico's foreign reserves in billions of US dollars. Mexico has managed to build on its foreign exchange reserves from ~33 billion dollars in 2000 to 172 billion dollars currently, according to the IMF (International Monetary Fund). Thus, Mexico (EWW), like many other emerging markets (ABE)(FEO), has enough ammunition in its arsenal to curb currency volatility during scenarios like the Tequila Crisis.
Since inflation rates touched 4.5% in January 2014, the central bank has done a good job keeping inflation in check as the graph above shows. However, cheaper oil (USO) prices have also been a factor. The central bank of Mexico kept its benchmark interest rate on hold at 3% at its October 29 meeting, saying that its current policy stance is appropriate to bring inflation back to 3%.