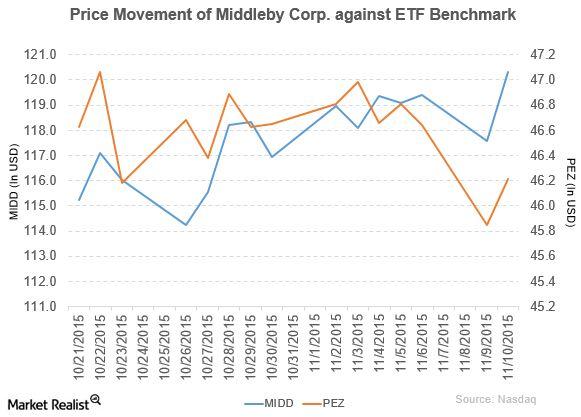 Why Middleby Corporation's Income Fell in 3Q15
By Gabriel Kane

Nov. 11 2015, Published 7:57 a.m. ET
Middleby's price movement
Middleby (MIDD) has a market cap of $6.9 billion. After the 3Q15 earnings report, MIDD rose by 2.3% to close at $120.3 per share as of November 10, 2015. The price movement on a weekly, monthly, and YTD (year-to-date) basis is 1.9%, 3.6%, and 21.4%, respectively.
The stock sometimes broke the support of the 20-day, 50-day, and 200-day moving averages. Currently, it's trading at 3.1% above the 20-day moving average, 6.8% above the 50-day moving average, and 9.4% above the 200-day moving average.
The PowerShares DWA Consumer Cyclicals Momentum ETF (PEZ) invests 2.0% of its holdings in Middleby. The ETF tracks an index of US consumer cyclical firms selected and weighted by price momentum. The YTD price movement of the PEZ ETF is 3.2% as of November 9, 2015.
Article continues below advertisement
Competitor's market capitalization
Performance of Middleby in 3Q15
The company reported net revenue of $449.0 million in 3Q15, a rise of 2.9% when compared to the net revenue of $436.3 million in 2Q15. Operating income fell by 4.0% in 3Q15 on a quarterly basis. Net income and EPS (earnings per share) fell by 10.1% to $48.8 million and by 9.5% to $0.86 per share, respectively, in 3Q15, as compared to the net income of $54.3 million and EPS of $0.95 per share in 2Q15. Net revenue rose by 11.1% and net income fell by 18.2% in 3Q15 as compared to the same quarter in 2014.
Article continues below advertisement
Meanwhile, cash and cash equivalents and inventories rose by 42.7%, and 28.1%, respectively, in 3Q15, on a quarterly basis. The current ratio fell to 1.58 while the long-term debt-to-equity ratio rose to 0.63 in 3Q15, as compared to a current ratio of 1.91 and a long-term debt-to-equity ratio of 0.51 in 2Q15.
Also, Middleby completed the acquisition of AGA Rangemaster Group for ~$200 million US dollars.
As per Selim A. Bassoul, Chairman and CEO of Middleby, "We have realized strong sales growth at the Commercial Foodservice Equipment Group as we continued to increase our business with chain restaurant customers adopting our new and innovative technologies as they seek to improve the efficiency of their restaurant operations."
About Middleby
Middleby develops, manufactures, markets, and services a wide range of equipment used in the commercial foodservice, food processing, and residential kitchen equipment industry.