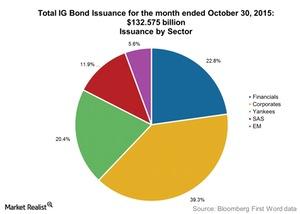 Microsoft Led the High-Grade Bond Issuance in October
By Lynn Noah

Nov. 17 2015, Updated 12:06 a.m. ET
Deals overview
US corporates were the biggest issuers of high-grade bonds in October. They accounted for 39.3%, or $52.1 billion, of all the issues. US financials were the second-biggest issuers. They accounted for 20.4% of all the issues. Meanwhile, the market issued $27.05 billion worth of high-grade Yankee bonds. They accounted for 18.8% of the total issuance. At the end of October, the YTD (year-to-date) issuance of high-grade corporate bonds stood at $1.3 trillion.
The issuances by high-grade corporates form part of the mutual funds like the T. Rowe Price New Income Fund (PRCIX) and the Strategic Advisers Core Income Fund (FPCIX).
Article continues below advertisement
Major issues in October
On October 29, Microsoft (MSFT) issued Aaa/AAA rated high-grade bonds worth $14.0 billion. It was the largest issuance in October. Microsoft will use the proceeds to repurchase stock and repay existing debt.
Electricite de France SA also known as "EDF SA" is based in France. The company produces, markets, and distributes electricity. On October 7, EDF SA issued A1/A rated high-grade bonds worth $4.8 billion.
Goldman Sachs (GS) is a leading global investment banking, securities, and investment management firm. It provides a wide range of financial services. On October 16, it issued high-grade bonds worth $5.0 billion.
Fidelity National Information Services (FIS) provides banking software and tools, architectures, and information technology solutions to the financial industry. On October 16, Fidelity issued Baa3/BBB rated high-grade bonds worth $4.5 billion.
PepsiCo (PEP) is a leading food and beverage company with a global portfolio of diverse brands. On October 8, PepsiCo issued A1/A rated high-grade bonds worth $3.0 billion.