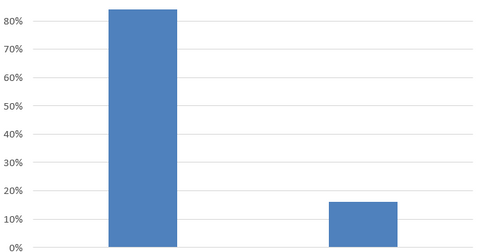 Microsoft Follows Amazon to Expand Its Footprint in the UK
By Parker Thomas

Updated
Opportunity for cloud in the United Kingdom
Microsoft (MSFT) is expanding its cloud computing footprint to the United Kingdom with its existing product line of Microsoft Azure and Office 365, followed shortly by Dynamics CRM online. Microsoft reported that the company has completed the expansion of data center facilities in Ireland and the Netherlands, which carry a lot of European workloads.
According to a cloud industry survey forum, approximately 84% of the company's commercial customers in the United Kingdom has already adopted cloud to get their business processes up and running. Proximity is a key factor when businesses deploy their data or applications such as Azure or AWS (Amazon Web Services) in the cloud. The lesser the distance to your data, the faster you can access them.
Article continues below advertisement
Amazon and Microsoft to invest $3 billion
Microsoft has built its cloud infrastructure in 24 Azure regions around the world with an investment of $15 billion. Microsoft, Amazon, and Google have benefited from shifting to the cloud and are willing to invest more in building data centers around the globe. It will better serve their customers to deliver Web-based services and keep data within the territory.
Last week, Amazon announced it will build a data center for its cloud computing business in the United Kingdom. Liam Maxwell, the government chief technology officer for the United Kingdom, said that these two companies will be investing around $3 billion to build the infrastructure.
Microsoft is planning to bridge the gap between the public and private cloud by introducing Azure Stack, a cloud operating system. That will allow its clients to operate an Azure-like platform on premise and swap their data and applications between the private and public cloud.
Satya Nadella, Microsoft's CEO (chief executive officer), said, "It's no longer about being confined to an organization's hierarchy. It's the idea of having tools that allow us to bring people together. We want to build a system that helps you drive productivity of your individual time and of your organization's."
The Power Shares QQQ ETF (QQQ) is a portfolio of 107 stocks. The top four stocks are Apple (AAPL), Microsoft (MSFT), Amazon (AMZN), and Google (GOOG), which make up 13.0%, 7.4%, 5.1, and 4.5%, respectively, of the fund.