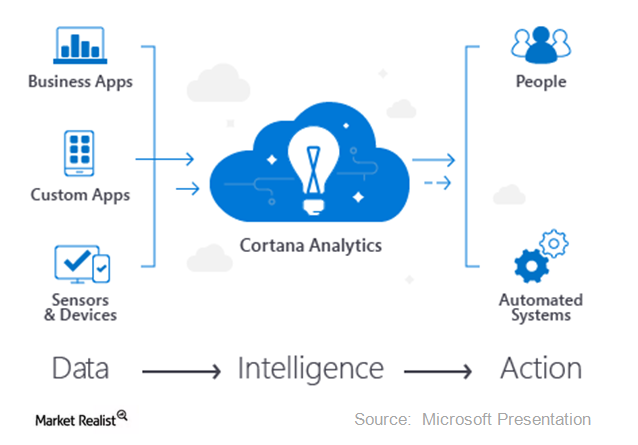 Microsoft and Amazon Are Threatening Tableau's Growth
By Anne Shields

Nov. 10 2015, Updated 1:08 p.m. ET
Microsoft and Amazon have greater scale and presence than Tableau Software
In the prior part of this series, we looked at Tableau Software's (DATA) earnings performance in fiscal 3Q15 and the impact on the company's share price. We also looked at big technology players such as Microsoft (MSFT), Amazon (AMZN), and IBM (IBM) and their increasing interest in the big data space. We saw that this is negative news for Tableau Software. Now let's see how these companies are posing a threat to Tableau.
Article continues below advertisement
Big data analytics and visualization are essentially enterprise-focused services. In 2015, Microsoft announced several upgrades to its Power Business Intelligence (or Power BI) platform. The upgrades enable increased collaboration between work groups and other software owned by Microsoft. So Microsoft customers who deploy MS Azure can add Power BI tools to attract Tableau's customer base.
Microsoft Cortana Analytics Suite, which includes Power BI, Cortana virtual assistant, and MS Azure services, is very diversified. This gives enterprise customers a lot of flexibility in analyzing and making future business decisions. This platform is in sync with the company's vision to "break down the walls between devices, applications, and people."
Microsoft is eager to utilize all its products and services to create an efficient enterprise business. This is not great news for Tableau Software, which is involved in the sale of BI Data Analytics.
Amazon poses a much bigger risk to Tableau Software with the scale and presence of Amazon Web Services (or AWS). It recently launched BI and analytics services and offerings in early October 2015. which it claims will help businesses analyze their data. So its services will directly compete with Tableau Software.
Microsoft and Amazon offerings go beyond big data and extend to cloud infrastructure and enterprise services
Although Tableau is a focused big data player, peers Microsoft and Amazon have a lot to offer apart from big data. Both companies provide cloud infrastructure services and other enterprise services from a single platform. Adding to Tableau's woes, its Tableau Server product is available on AWS.
You can consider investing in the SPDR S&P 500 ETF (SPY) to gain exposure to the technology sector. The ETF invests about 18% of its holdings in that sector.