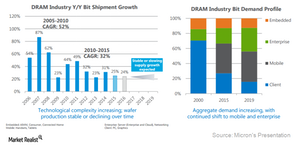 How is Micron Placed in the DRAM Industry?
By Puja Tayal

Nov. 27 2015, Updated 8:05 p.m. ET
Micron in DRAM industry
Micron Technology (MU) is the only US-based company that manufactures DRAM (dynamic random access memory). Other companies outsource to third-party companies. The maturing DRAM market saw several consolidations over the past few years and is now dominated by three players: Samsung (SSNLF), SK Hynix, and Micron, which together hold more than 92% of the market share.
At the UBS Global Technology Conference, Micron's chief financial officer Ernie Maddock stated that the company aims to achieve a 20% to 30% bit growth in DRAM over the next few years. However, the cost may not decline in line with bit growth. Let's see Micron's view of the maturing DRAM market and its strategy to maintain its revenue in this market.
Article continues below advertisement
Trend in DRAM industry
As you can see in the above graph, the supply-side growth in the DRAM industry has slowed down, from around 50% in 2005–2010 to around 30% in 2010–2015. Now it's expected to hover around 20% in 2016 and beyond.
The demand for DRAM is shifting away from the personal computer toward mobile, and enterprise devices and demand from embedded devices are likely to remain stable. This shift in demand opens the opportunity for Micron to cater to a diverse customer base with specialized products.
Micron's response to industry trend
In response to the demand shift, Micron changed its business model to focus on mobile DRAM. It acquired Japan-based (EWJ) Apple (AAPL) supplier Elpida in 2013. The company is focusing on a dynamic product mix that can be altered according to the market demand.
Moreover, the company has been transitioning from 25nm (nanometer) and 30nm nodes to 20nm nodes in order to compete with Samsung (SSNLF), which has already started mass production on 20nm nodes. A major portion of the 20nm deployment is coming from Micron's joint venture with Inotera.
A smaller node enables the manufacturer to produce more chips on the same wafer at a reduced cost per gigabit. But Micron has been facing troubles, realizing the cost benefit due to the complexities arising from every node shrink. However, the company expects to ramp up 20nm production and realize cost benefits in the middle of fiscal 2016.
The startup cost of 20nm technology impacted Micron's gross margin in fiscal 4Q15 and is likely to impact the margin for the coming two quarters as well. The company expects to see improvement in margins from May 2016.
In the next part of the series, we'll look at Micron's plan to grow in the NAND (negative AND) and 3D NAND markets in partnership with Intel (INTC).