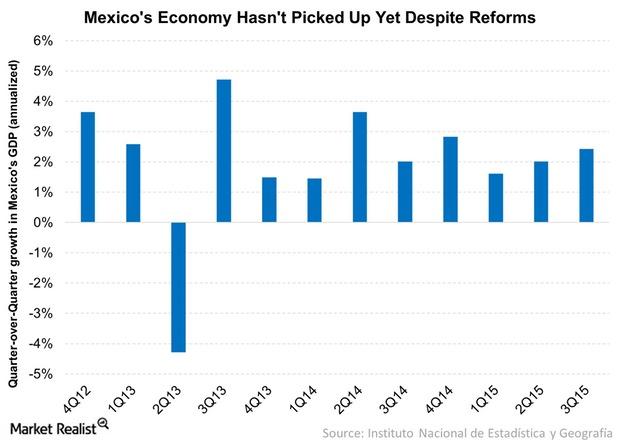 Why Mexico's GDP Growth Hasn't Picked Up despite Reforms
By Andrew Stanners

Nov. 18 2015, Updated 3:34 p.m. ET
The big question is: why is growth is stuck at a relatively anemic 2% when there are so many positive trends in place? Reforms have been introduced to boost productivity and competitiveness, central bank policy is broadly accommodative, fiscal policy is reasonably supportive of growth and the US–Mexico's biggest trading partner–is growing. The answer has a lot to do with manufacturing. Mexico has diversified its economy in recent years, but manufacturing still comprises around 18% of GDP and it's been declining since October 2014. Any improvement hinges largely on the US economy. If US durable goods growth improves, then Mexican GDP should as well. The effects of many of the reforms have yet to kick in, too, though formal employment has already increased because of them. Financial-sector reform should mean that credit penetration improves (as it needs to). Oil exports already play a less pivotal role in the economy (currently accounting for nearly 10% of exports versus 18% of exports in 2008), which has softened the impact of the drop in oil prices.
Article continues below advertisement
President Peña Nieto's fortunes are another matter. Bad news is piling up, whether it be the failure to secure justice for 43 kidnapped and presumed dead students, corruption allegations or the prison escape of one of the country's largest drug cartel bosses. But the country's fortunes are not defined by its president's. It is always a mistake to judge anything from what you see at first sight, and Mexico is no different. Día de Muertos itself is nowhere near as grim or macabre as it sounds. It's a celebration and remembrance of loved ones who have died, which has spawned into a festival of commercialism and parties far beyond Mexico (not least in the US). Mr. Peña Nieto may not be joining in the celebrations himself, but we think the prognosis for the country is just fine.
Market Realist – Mexico's GDP growth hasn't picked up yet.
The graph above shows the annualized quarter-over-quarter growth in Mexico's GDP. As you can see, the economy has failed to take off despite numerous government reforms. However, as pointed out earlier, reforms do not bear fruits immediately. Mexico's (EWW)(LAQ) economy grew by 2.4% on an annualized basis in 3Q15, slightly higher than the 2.0% growth it saw in 2Q15.
One of the reasons is that the manufacturing sector in Mexico is slowing down. The HSBC Mexico manufacturing purchasing managers' index (or PMI) fell to 52.1 in September from 52.4 in August, as output remained sluggish and new orders fell. The PMI index stood at a solid 55.6 in January but has been falling since, which suggests a slowdown in the sector. A number below 50 suggests contraction.
The second graph shows the month-over-month growth in US durable goods orders. New orders for US manufactured goods (DIA) fell 1.2% in September from August of 2015, following a 3% drop in the previous period. Tepid durable goods orders growth in the US (IVV)(QQQ) in the last several months has affected growth in Mexico. The US accounts for a massive chunk of Mexican exports. However, there have been signs of a pickup in consumer sentiment in the US, which bodes well for the Mexican economy.
Read Latin America: Rising Long-Term Investment Prospects for more insight into investing in Latin America.