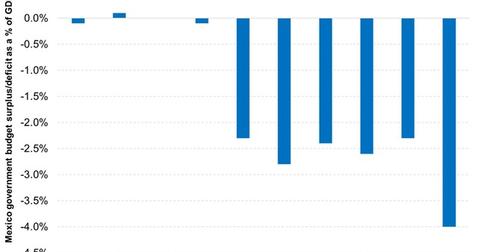 How the Mexican Government Has Pleased Investors
By Andrew Stanners

Nov. 18 2015, Updated 3:34 p.m. ET
Oil price declines have clearly impacted the country's fiscal position. Oil has tended to account for around one-third of fiscal revenues but, with the collapse in the oil price, that is expected to fall to as low as 20% in 2016. The budget deficit is set to hit 4% of gross domestic product (or GDP) this year. With growth set to be low, debt is set to constitute around 39% of GDP this year. Mexican policymakers are only too aware of what can happen when investors start to focus on the fiscal balance (which is what happened to Brazil), and have reduced spending accordingly. The decisions the government has made will probably keep the fiscal picture moving along. But with lower government spending, the country is even more reliant on US trade for a pick-up in growth.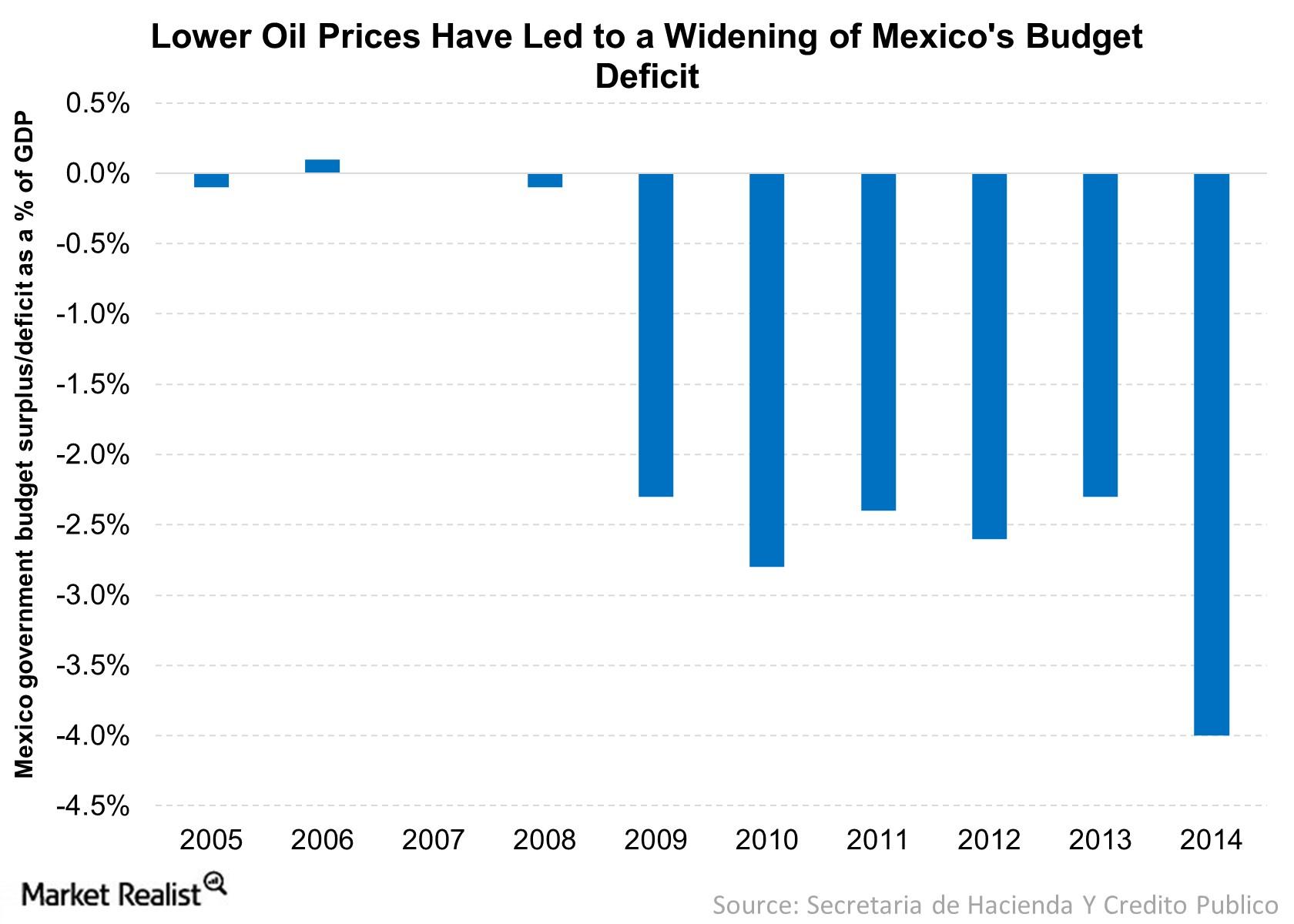 Article continues below advertisement
Market Realist – How the Mexican government has pleased investors
Oil (USO) prices have plunged by over 60% since last summer while other commodities have taken similar hits. This has had dire repercussions on many emerging markets (ABE)(FEO), which are heavily reliant on commodity exports, notably Brazil, among other Latin American economies (LAQ) and Russia.
As mentioned above, lower oil prices have negatively impacted Mexico's (EWW) fiscal position. As the graph above shows, Mexico's budget deficit grew from 2.3% of its GDP in 2013 to 4% in 2014. The deficit is likely to increase in 2015 due to sustained lower oil prices.
Increasing fiscal deficits could lead to capital outflows from the economy, causing the peso to depreciate and inflation to rise. However, to its credit, the Mexican government has acted swiftly to check the deficit. Government spending in Mexico fell to ~1.5 trillion pesos in 2Q15 from ~1.6 trillion pesos in 4Q14. This move goes to show that the government is willing to take the right steps while risking potential political implications.
With government spending no longer fueling growth, Mexico needs growth in the US to pick up. The US is Mexico's largest trading partner, buying as much as 77.5% of Mexican exports in 2012, according to the US Embassy. Demand in the US needs to rise to spur growth in Mexico.