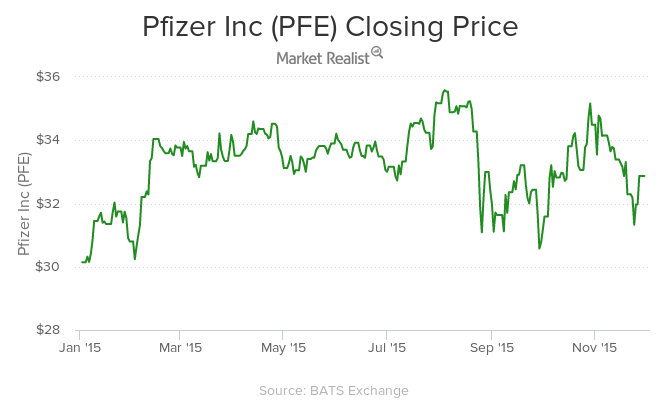 Market Response to Xalkori's Label Update
Xalkori and the label update  
As discussed earlier, the European Commission approved Pfizer's (PFE) Xalkori as a first-line treatment of ALK+ advanced non-small cell lung cancer (or NSCLC), on November 25, 2015. This approval follows the positive opinion of the Committee for Medical Products for Human Use (or CHMP) of the European Medical Agency (or EMA), and positive progression-free survival results from the Profile 1014 study.
[marketrealist-chart id=852982]
The graph above shows changes in Pfizer's stock price after Xalkori's label update approval by the European Commission. The stock price rose by ~2.8% to the closing price of $32.87 on November 25, 2015.
Article continues below advertisement
Response from investors
Pfizer received a positive response from investors, following Xalkori's label update. The approval was positive for Pfizer's oncology business in the EMEA (Europe, the Middle East, and Africa) region. The annualized year-to-date return of Pfizer's stock is around 9%.
Pfizer and its innovative business
Headquartered in New York City, Pfizer is one of the largest pharmaceutical companies by revenues. The company deals with both innovative pharmaceuticals as well as established ones. Recently, the company announced the Pfizer-Allergan deal that could strengthen both the innovative and established business arms of Pfizer, marking the biggest merger in the pharmaceuticals industry to date.
Xalkori is a part of the oncology franchise from Pfizer's global vaccines, oncology, and consumer healthcare business segment, itself part of the innovative pharmaceuticals business. For further details, you can refer to Investing in Pfizer? What you need to know.
Oncology drugs also include Iressa from AstraZeneca (AZN), Tarceva from Astellas Pharma (ALPMY), Tykerb from Novartis (NVS), Erbitux from Eli Lilly (LLY), and Vectibix from Amgen (AMGN). Investors can consider ETFs like MSCI Health Care Index ETF (FHLC) or the iShares Global Healthcare ETF (IXJ) with holdings in Pfizer.