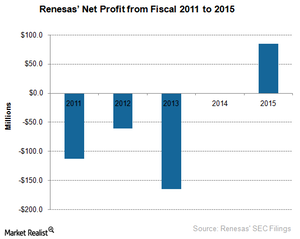 What Makes Renesas a Potential Acquisition Target?
By Puja Tayal

Updated
Renesas a potential acquisition target
So far, we've seen that competition arising from the consolidation of NXP Semiconductors (NXPI) and Freescale Semiconductor (FSL) has forced Renesas Electronics and Infineon Technologies to look for acquisitions and boost growth.
While Renesas has set aside $2.4 billion in cash to fund acquisitions and is also willing to borrow, its major shareholder, Innovation Network, is looking to sell its 69.2% stake in the company after bailing it out in 2012.
Article continues below advertisement
Renesas's journey
In fiscal 2010, Renesas Electronics was created through a merger of NEC Electronics and Renesas Technology, a semiconductor joint venture between Hitachi and Mitsubishi Electric.
In fiscal 2011, the company was significantly affected by the tsunami and earthquake in Japan (EWJ).
In fiscal 2012, the company underwent restructuring to overcome these losses and become profitable. As part of the restructuring, it nearly halved its workforce and closed or divested non-core businesses, which helped it reduce losses by ~50%.
In fiscal 2013, the cash-strapped semiconductor manufacturer was bailed out by the Japanese government-backed fund Innovation Network and support from key customers. The fund acquired a 69.2% stake in the troubled company with a provision to hold the stake for two years.
In fiscal 2015, the company posted its first annual profit of $84.9 million. However, the fund is now free from the provision and is rumored to be looking to sell its stake in the semiconductor company in part or in full. This is putting pressure on the Renesas to grow through acquisitions or strategic alliances.
Innovation Network believes that Renesas has to expand its international presence to stay competitive in the maturing semiconductor market. There is a potential for history to be repeated, with domestic companies buying some stake in Renesas. However, Toshiba (TOSBF) and Sony (SNE) are dealing with their own sets of problems and are unlikely to invest in Renesas.
Renesas's market position
Renesas manufactures microcontrollers and logic integrated circuits for the automotive and industrial sectors. Despite financial concerns, the company was the leading player in the automotive semiconductor market in 2014, with a 10.5% market share. It was the 11th-largest global semiconductor company by revenue in 2014. However, IC Insights expects the company to slip to 16th place in 2015 following the NXP-Freescale merger.