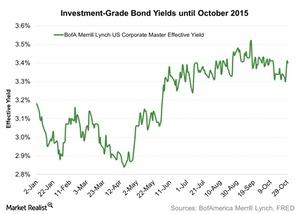 Macroeconomic Factors Impacted Investment-Grade Bond Yields
By Lynn Noah

Nov. 12 2015, Published 9:34 a.m. ET
Investment-grade bond yields
Investment-grade bond yields fell by three basis points month-over-month and ended at 3.4% on October 30 due to the global economic slowdown and uncertainty in China. In October, this dragged down the overall growth in the US economy.
Article continues below advertisement
Macroeconomic indicators
The US GDP (gross domestic product) slowed in 3Q15. It fell by 1.5% from the 3.9% growth rate in the second quarter. The global slowdown dragged down the US economy's performance. Meanwhile, non-farm payrolls in the US rose by 142,000 in September. This was below the expectations. The data indicate that the US economy is growing slowly while the job market is improving. The Fed is watching these two major factors to determine the rate hike. The data had a positive impact on investment-grade bond yields.
FOMC meeting
The Fed kept interest rates unchanged after the conclusion of the two-day FOMC (Federal Open Market Committee) policy meeting on October 28, 2015. However, the meeting indicated the possibility of a rate hike in the next meeting. It's scheduled for December 15–16, 2015. Investment-grade bond yields rose after the announcement.
Impact on mutual funds
The Vanguard Total Bond Market Index Fund – Investor Class (VBMFX) provides broad exposure to US investment-grade bonds. VBMFX invests in investment-grade corporate bonds of companies like Apple (AAPL), Walmart (WMT), Bank of America (BAC), AT&T (T), and Oracle (ORCL).
VBMFX's monthly return, from September 30 to October 30, fell by 0.18%.
We'll look at investment-grade corporate debt issuances for the month ending October 30 in more detail. First, let's take a look at how yields and spreads on corporate bonds have fared, so far, in 2015.