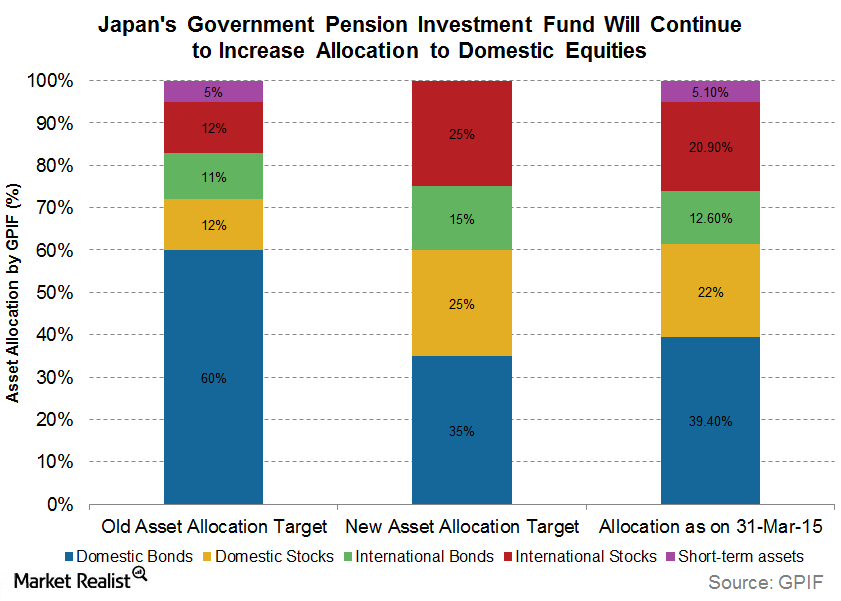 Why Investors Should Look beyond the United States
By Dennis Stattman

Nov. 20 2015, Updated 4:18 p.m. ET
2. Look beyond the United States. After a multi-year bull run, U.S. stocks are looking pricey on the global stage—even after the recent correction. According to Bloomberg price-to-earnings and price-to-book metrics (as of August 2015), —particularly where the recent downturn was unduly punishing. Consider potential opportunities in Europe and Japan.
3. Never overpay for an investment. Mr. Stattman's 35 years of investment experience have led him to this maxim: You have better odds of buying low and getting out high than buying high and getting out higher.
Market Realist – There is no question about the fact that the six-year bull run has left very little room for value in the US markets. Investors should look beyond the United States to opportunities abroad.
Article continues below advertisement
Amid the developed world, Europe (EZU) and Japan could prove to be good value investments. Both Europe and Japan have been benefiting from central bank stimulus. The European Central Bank is even hinting at further easing in the months to come, which would be a tailwind for European stocks (FEZ) (VGK).
Japan (DXJ) is maintaining its pace of asset purchases in line with its stimulus program that has been underway for the past two and a half years. The program aims at boosting the economy by pumping in 80 trillion yen, or ~$660 billion, annually.
There are many reasons to consider investing in Japan (EWJ). A new voluntary corporate governance code came into effect in Japan in June 2015. It aims to address shareholders' rights, cross-shareholdings, board diversity, whistle-blowing, and anti-takeover measures, to name a few. The change in the corporate environment is a welcome change, and it is likely to bolster equities. Moreover, the focus is shifting to increasing shareholder value and increasing the return on equity for investors. The declining yen has helped too, by bolstering corporate earnings of export-based companies.
Article continues below advertisement
Institutional buying has also been acting as a tailwind for Japanese equities. Japan's Government Pension Investment Fund (or GPIF) had increased its allocation targets for domestic equities from 12% to 25% in October 2014. As of March 31, 2015, the GPIF's portfolio comprised 39.4% in domestic bonds, 22% in domestic equities, 12.6% in international bonds, 20.9% in international equities, and 5.1% in cash. This can be seen in the previous graph.
Life insurance companies in Japan (HEWJ) are now following suit by allocating more to domestic equities. According to data from the Tokyo Stock Exchange, for the first time in three years, insurance companies were net buyers of Japanese stocks in August. The net purchases of domestic equities by Japanese financial institutions were estimated to be more than 1 trillion yen in August and September (Source: Nikkei Asia). As reported by the Wall Street Journal, Nippon Life Insurance, which is Japan's largest life insurer by assets, purchased domestic equities worth ~40 billion yen in the six months through September with plans to purchase more in the months to come.
Read our series on US Equity is Expensive: Japan and Europe Offer Relative Value to know more.