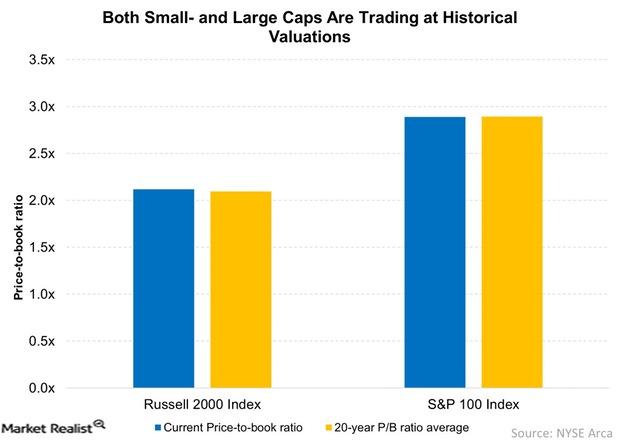 Do Large Caps Offer More Value Relative to Small Caps?
By Russ Koesterich, CFA

Dec. 4 2020, Updated 10:52 a.m. ET
This, in turn, is having an impact on small-cap valuations. Through October, S&P 500 Index multiples actually rose a bit. However, the price-to-earnings ratio on the Russell 2000 Index of small-cap stocks contracted by around 2.5 percent. It should be noted that this is consistent with history.
Looking forward, to the extent we see a gradual rise in real rates, higher real rates are likely to keep small-cap valuations under pressure. Finally, large- and mega-cap names also have the advantage of cheaper valuations relative to the broader market.
Article continues below advertisement
Market Realist – Do large caps offer more value relative to small caps?
The graph above compares the price-to-book value ratio of small caps, as tracked by the Russell 2000 Index (IWM), and the large caps, as tracked by the S&P 100 Index (OEF). The latter is trading at around its 20-year average valuation of 2.9x book value. Meanwhile, small caps are trading slightly above their long-term average of 2.1x book value.
Oil (BNO) prices are likely to stay low due to the demand-supply mismatch. Even the turmoil in the Middle East has failed to push prices higher. This means inflation could stay low even beyond 2015. Meanwhile, as we mentioned earlier, the Fed is likely to hike rates next month, leading to mildly higher real interest rates. As explained in the previous part, small caps could underperform as real rates rise. However, large caps (IWB) won't outperform by a large margin, as a stronger dollar (UUP) will dampen their revenues.
If the slowing global growth were to lead to a slowdown in the US as well, some small caps will be in danger. Large caps will be in a much better position to navigate through that period given their cash positions.
Read 2 Investing Implications of Higher US Rates for more on how you can position your portfolio as rates rise.