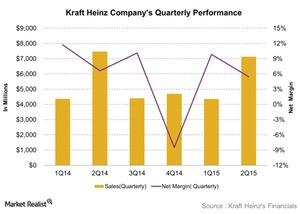 Kraft Heinz Reported 2Q15 Results after the Merger
By Sushree Mohanty

Dec. 4 2020, Updated 10:52 a.m. ET
Second quarter performance recap
On August 10, 2015, the Kraft Heinz Company (KHC) reported its second quarter results for Kraft Foods Group and H.J. Heinz Holding Corporation for the periods ending June 27, 2015, and June 28, 2015, respectively. Both companies reported their second quarter results separately. The Kraft Heinz Company completed the merger of Kraft and Heinz successfully at the end of the second quarter.
Article continues below advertisement
Key results of Kraft in 2Q15
Kraft's 2Q15 net revenues fell 4.9%, and Kraft's organic net revenues fell 3.3%. It reported operating income of $923 million and diluted EPS (or earnings per share) of $0.92. Diluted EPS included $56 million or $0.06 per diluted share in spending on cost savings initiatives, as well as $37 million or $0.04 per diluted share in merger-related expenses. It also included a $21 million or $0.02 per diluted share gain on the sale of assets, and $20 million or $0.02 per diluted share in unrealized gains from hedging activities.
Key results of Heinz in 2Q15
Heinz's net sales fell 4.1%, and Heinz's organic net sales grew 5.9%, driven by higher pricing across all segments. Organic adjusted EBITDA[1. earnings before income, tax, depreciation, and amortization] rose 16.3%, driven by more sales and lower SG&A (selling, general, and administrative expenses).
Article continues below advertisement
Factors responsible for 2Q15's performance
Kraft's net revenues fell 4.9%, including a negative 1.4% impact from currency. Its organic net revenues fell 3.3% driven by a 2.6% fall from volume and product mix and a 0.7% fall from lower net pricing. The growth in operating income and earnings per share was primarily driven by a combination of favorable commodity costs, mainly in the dairy and meat categories net of pricing. Lower SG&A driven by reductions in less effective advertising spending, and lower manufacturing costs driven by net productivity, also contributed to the growth to some extent. EPS growth was further enhanced by a lower effective tax rate and lower net interest expense versus the prior year's corresponding quarter.
Heinz's sales fell 4.1% due to a negative 9.4% impact from foreign exchange translation and a 0.6% reduction from the divestiture of a frozen food business in the United Kingdom. Adjusted EBITDA rose $46 million, or 6.7%, to $739 million, primarily driven by gross profit as a result of more sales in North America and Venezuela. The cost of productivity initiatives for goods sold and an overall reduction in SG&A also drove the rise in EBITDA. These gains were partially offset by unfavorable foreign exchange translation rates in all segments and greater marketing spending in North America.
Kraft Heinz's peer performance
Kraft Heinz's competitors in the industry include Mondelez International (MDLZ), Hershey (HSY), and Mead Johnson (MJN). They reported gross margins of 39%, 45.5%, and 64.5%, respectively, for their last reported quarters. The Fidelity MSCI Consumer Staples ETF (FSTA) and the First Trust Capital Strength ETF (FTCS) respectively invest 0.82% and 2.1% of their portfolio in the MJN stock.